2017: A Pivotal Year
January 8, 2018
For us at Bridge Technologies, 2017 will prove to have been a pretty pivotal year. Why do I say that?
Simply: for as long as we've been in business – and that stretches back over a decade – we've been talking about how IP will transform our industry, and developing the technologies, products and solutions that would facilitate that transition. Our message wasn't one that everyone wanted to hear. After all, broadcast and media organisations were doing just fine with the technology they had – so why would they want to change? And, of course, they also had a significant investment in those technologies.
But we could clearly see how the industry would change – and the underlying technology would need to change with it. The big stumbling block was always SDI. As an interface, it has served the broadcast industry very well in terms of speed, reliability and predictability – but it is not without its limitations.
Challenges worth addressing
Of course, IP over satellite has not been without its challenges – but those challenges have been worth addressing, because of the benefits it can bring. It was interesting to see, in an announcement in September, that BBC News is using the technology. The attraction is that, in certain situations, IP satellite may be the only connectivity option left to field crews when terrestrial networks are not available, become contended over time or suffer from too much jitter. In the competitive world of remote news-gathering, the guaranteed ability to get the story back to base is vital.  
This year as always, IBC was all about the possibilities and opportunities that lie ahead. Previous recent IBCs had seen resistance to, followed by grudging acceptance of, the idea that IP represented the future. By IBC 2016, that had turned into a great deal of confusion about where the industry was headed in terms of adoption of IP, with AIMS, ASPEN, Sony and NewTek all having different visions and versions of what the future would look like.
At IBC 2017, however, everything pretty much came together. Perhaps most notably, during the show, SMPTE formally announced that IP standards ST-2110 parts 10, 20 and 30 are now approved. That's a significant step forward, although there's still plenty to be done. ST-2110, according to SMPTE, radically alters the way professional media streams can be handled, processed, and transmitted, and goes beyond merely replacing SDI with IP to support the creation of an entirely new set of applications that leverage what's going on in the IT world. In the event, you could say that, with SMPTE's announcement, AIMS 'won' – although the real winner was our industry.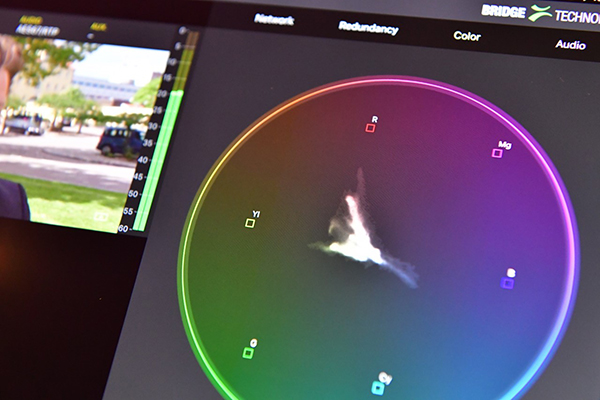 Bigger and better
A feature of the show this year was the IP Showcase. It's not the first time this has been organised by AIMS, but this year's was much bigger and better than previously, with over 50 vendors – including Bridge Technologies – demonstrating real world IP interoperability based on what were, until September 18, ST-2110 final draft standards.
We made our own contribution to demonstrating the levels of interoperability that are now possible. On our IBC stand, we were showcasing our VB440-SW dual 40 Gigabit Ethernet probe, using live streams that enabled visitors to view network performance in real time and showing how the SMPTE ST-2110 standard is a practicable way forward.
IBC was also excellent from our point of view. Not only did we have our biggest ever stand, but we also demonstrated a radically new user interface we've been working on this year, and that we'll announce next year. It will provide an entirely new way of viewing network behaviour, enabling media professionals and others to obtain a highly intuitive view of data activity on the network with unprecedented accuracy and speed. It is also designed to make it clear, in an ST-2110 and ST-2022 world, which packets are audio, which are video, which are control and so on – something that has not been achieved previously. It's an outstanding tool for those in media production dealing with high bitrate video as characterised by ST-2110 and ST-2022.6 who need to have real-time, highly accurate knowledge of the behaviour of networked packets and precise information about the content being carried.
The new user interface is also an excellent example of something else we've been talking about for a long time – and that's the declining importance of hardware and the growing significance of software. That too was very apparent at IBC 2017, with many vendors extolling the virtues of software's ability to more easily adapt to a changing media and broadcast environment. Sure, software like our new user interface still needs very capable hardware on which to run – but it's the software that provides the solution and, increasingly at Bridge Technologies, you'll see us focusing on solutions.
New solutions see success
In the same vein – software – 2017 has been a good year for Remote Data Wall, an award-winning software solution we launched towards the end of 2016. Customers have responded very positively to how it allows them to simply specify which of the rich data available from the Bridge Technologies digital media monitoring system is most significant for their specific requirements, and to display it. It enables users with no special skills to create displays, extending over multiple screens in a videowall format, significantly easing the monitoring, analysis and troubleshooting of media networks. It can be viewed from any location either in its entirety or in part as specified by the user.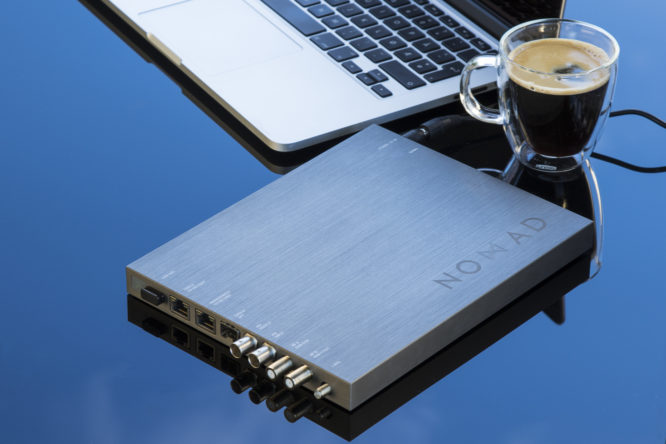 It's also been a very good year for NOMAD, a compact, rugged, portable network probe we introduced late last year and that is now achieving sales worldwide. NOMAD is popular because it provides a solution to two key challenges in the industry. The first is the increasingly peripatetic nature of the network engineer's job as networks become more dispersed, with trouble-shooting often required at remote locations. The second is that many of those engineers are not yet fully proficient in how IP networks operate – and NOMAD is designed to make it simple for them to understand what's going on in the network, and how to optimise it.
Last year, in this column, I said that "2017 promises to be the year when everything we've worked for becomes an industry reality". I think that prediction has proved to be true. I also said that I expected 2017 to be the year when the broadcast industry would move from 'talk' to 'walk', and I think that is what has happened: the debate about IP is no longer "if" – but about "how"? Thus far, IP has shown that it is capable of adapting to almost any application and environment – and its impact has been transformative in the way we work, rest and play. There is no doubt in my mind that it will be equally transformative for the broadcast industry.
About Bridge Technologies
Bridge Technologies creates advanced solutions for protecting service quality in the digital media and telecommunications industries. The company's award-winning monitoring/analysis systems, intelligent switchers and virtual environments help deliver over 20,000 channels to more than 900 million subscribers in 94 countries. From head-end satellite ingress to microanalytics in the home network, Bridge Technologies offers patented innovation and true end-to-end transparency. A privately held company headquartered in Oslo, Norway, Bridge Technologies has worldwide sales and marketing operations through a global business partner network.
Press Contact:
Fiorenza Mella
XPresso Communications
Tel: +31 71 523 82 10
Email: [email protected]