Training & Tutorials
Want to be a monitoring and analytics expert? Update your skill set today
Bridge Technologies Quiz
How much do you know about Bridge Technologies products? Take this quick on-line quiz, and find out! There's a small prize for everyone who scores more than 70%. Click for Quiz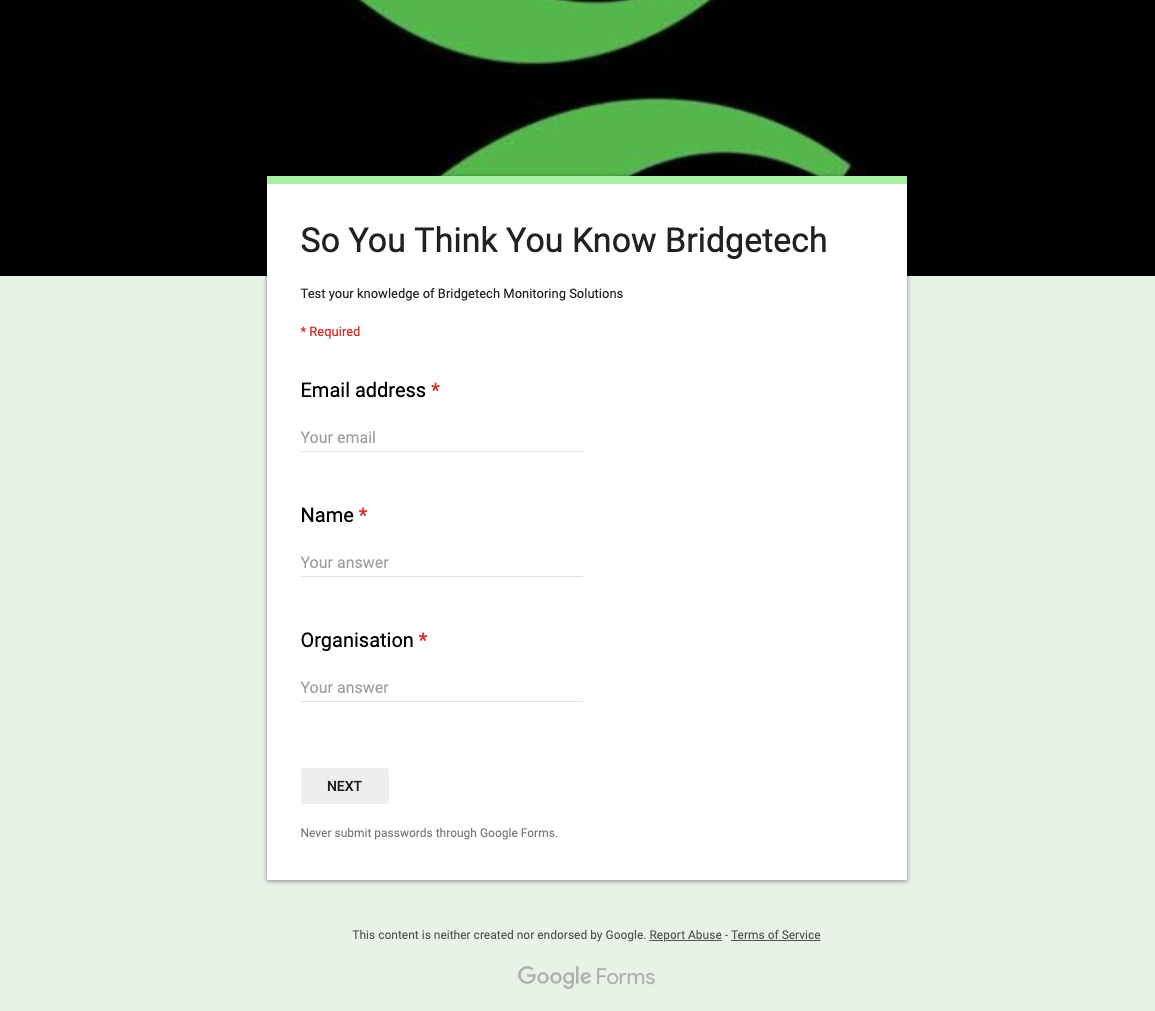 Bridge Technologies introduce Certification Training
Bridge Technologies has developed a Certification Programme for Business Partners and others designed to ensure personnel have the appropriate knowledge on our product portfolio.
It is currently offered in two phases.
Phase 1. 7 self-contained videos covering all aspects of basic probe setup.
Basic connection, web GUI, Licenses and Software
Adding Multicasts, Multicast parameters and the Media Window™
IP jitter, dropped IP packets, Using Ethernet alarm thresholds
Adding and configuring ETR290 analysis, ETR290 alarm thresholds
Adding RF monitoring, Cable, Satellite & Terrestrial. RF alarm thresholds
An introduction to OTT, what to monitor and where
Configuring OTT monitoring in a probe, OTT thresholds
VB288 QoE probe and Thumbnail generator. Setup & use
Each of the above video tutorials are followed with an online quiz. Passing the quiz allows you to proceed to the next video in the series.
Phase 2. 3 x 2-hour WebEx session with an instructor taking you through Bridgetech's Video Bridge Controller (VBC) System Manager theory, setup and use.
There is an on-line quiz for each VBC WebEx
You can also test your existing knowledge by taking the quiz and finding if there are any gaps in your knowledge. Remember, Bridgetech release new software with new features every year and you might be a little behind on the current feature-set.
For more details contact Martin Crawley, Head of Bridgetech Academy.
training@bridgetech.tv
Academy Training

The Bridge Technologies Academy will provide technical personnel with the multi-disciplinary operational expertise, necessary for complete understanding of the Bridge Technologies advanced monitoring environment.

These courses will deliver expertise, based on long experience of real-world commercial use of IP in broadcasting and interactive media delivery. Just as there has been a lack of end-to-end monitoring solutions for digital TV until recently, there is also a lack of training opportunities where engineers and maintenance staff can acquire both the overview and the detailed knowledge they need. With these courses, customers can now acquire that expertise directly from Bridge Technologies.

Course content will include:
• Fundamentals
• The transport stream, IP protocol stack
• IPTV protocol mappings
• Relevant standards, unicast vs. multicast, IGMP
• Digital TV measurement techniques
• General considerations, standards
• What to measure, where to measure
• Packet drops, packet jitter
• Common network/ video problems
• Case studies, inter-arrival time, jitter robustness
• Stuffed versus unstuffed streams
• The MediaWindow™
• Product training
• Probes, extractor, generator, VBC

Next Scheduled Training
Order directly from Bridge Technologies today or contact your local Business Partner. Contact Martin by email training@bridgetech.tv for the next scheduled dates or if you have questions about the courses.

Product Ordering Code

BT-ACADEMY – Bridge Technologies Academy Standard Course two-day session. Ex. Travel & subsistence
BT-ACADEMY-OSL – Bridge Technologies Academy Standard Course two-day session per Engineer, in Oslo