Advanced Network Monitoring and Analysis Solutions at BroadcastAsia
May 22, 2018
Bridge Technologies to Demonstrate Range of Advanced Network Monitoring and Analysis Solutions at BroadcastAsia
Solutions enable users to fully leverage benefits and advantages of IP
Bridge Technologies will be at BroadcastAsia 2018 (Suntec Singapore, 26-28 June) with partner Techtel ( booth 4K3-05)  to demonstrate the range of advanced network monitoring and analysis solutions the companies offer that provide true end-to-end transparency and help digital media companies and broadcasters deliver a significantly improved end user experience.
Techtel supplies and supports the full range of Bridge Technologies' solutions in the Asia Pacific market.
"Our investment in the exciting Asia Pacific market is now beginning to pay off," said James Chance, Regional Manager, APAC at Bridge Technologies. "Working with Techtel, awareness of the benefits our solutions can provide has increased and has seen us become involved in a number of very interesting projects. We are providing our customers with valuable tools that enable them to achieve 100% understanding of, and confidence in, their video processing systems and distribution networks'– and that's allowing them to fully embrace IP, and leverage its many benefits and advantages such as a better operational efficiency and technical service quality resulting in an improved Quality of Experience for subscribers."
Instrument View
At BroadcastAsia we'll be discussing the award-winning Instrument View, which was officially launched last April and received recognition as ´Best of Show´ at NAB 2018.
Instrument View is designed to address an essential real-time need for IP packet behaviour analytics when dealing with modern infrastructures capable of transporting uncompressed ST2110 video and audio. With a production environment dominated by operations personnel and non-movable deadlines, Instrument View enables the total understanding of advanced connectivity with the use of advanced paradigms recognised by staff to give accurate and meaningful information – equivalent to that obtained from the audio meter or waveform/vector-scope that has been utilized by the industry since the beginning of broadcast. The Instrument View option provides deep analytics displays for the VB440 dual 40 Gigabit network probe.
VB288
Also on show is the VB288 Objective QoE Content Extractor. The VB288 performs objective video and audio monitoring of MPEG-2, H.264/MPEG-4 and H.265/HEVC streams and offers a unique web browser-based remote video-wall capability providing full visual status from anywhere. The VB288 enables operators to inspect enormous amounts of content beyond the ability of the human eye, and provides reliable alarming on objective parameters having an impact on QoE.
Remote Data Wall
Bridge Technologies and Techtel will also be highlighting the award-winning Remote Data Wall (RDW). RDW allows those responsible for network monitoring and management to quickly and easily create a visual representation of network activity, enabling potential problems to be rapidly identified and appropriate corrective action taken. Depending on the size or complexity of the network being monitored, RDW can spread from a single screen to multiple screens in a videowall format – but requires no specialist skills to install.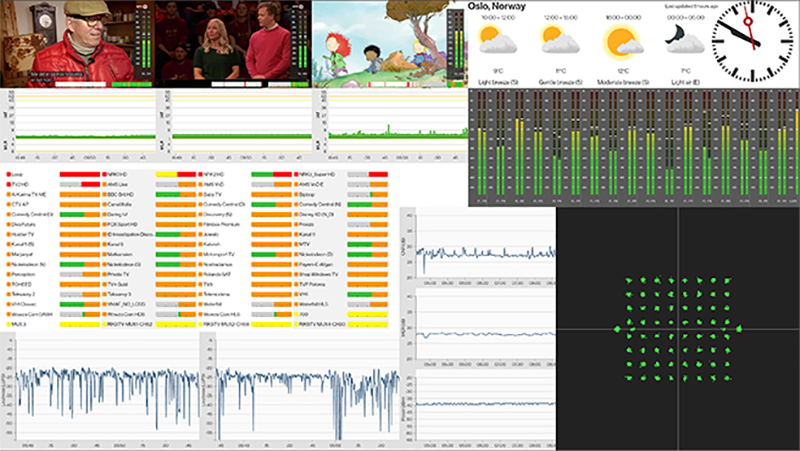 BroadcastAsia is Asia's must-attend international event for the pro-audio, film, digital media and broadcasting industries.
About Bridge Technologies
Bridge Technologies creates advanced solutions for protecting service quality in the digital media and telecommunications industries. The company's award-winning monitoring/analysis systems, intelligent switchers and virtual environments help deliver over 20,000 channels to more than 900 million subscribers in 94 countries. From head-end satellite ingress to microanalytics in the home network, Bridge Technologies offers patented innovation and true end-to-end transparency. A privately held company headquartered in Oslo, Norway, Bridge Technologies has worldwide sales and marketing operations through a global business partner network.
Press Contact:
Fiorenza Mella
XPresso Communications
Tel: +31 71 523 82 10
Email: [email protected]