Announces Industry's First Dual 40 Gigabit Probe for Monitoring High Density IP Networks
August 22, 2016
Bridge Technologies today announced the VB440-V dual 40 Gigabit Ethernet virtual probe, which monitors high density IP media traffic in core broadcasting networks, production studios, outside broadcast and master control centers, enabling users to quickly rectify
problems and maximise Quality of Service (QoS).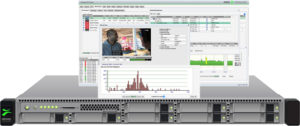 It is unique in its ability to support dual 40 Gigabit Ethernet interfaces – giving it an effective throughput of 80 Gigabits – and in its support of SDIoIP (SDI-over-IP), providing network operators and digital media organisations with an analytics solution for thousands of streams and multiple technologies in real-time and in parallel. Providing SDI analytics from 270MBit to 12GigaBit requires packet accuracy in the nanosecond range, a capability already built in to Bridge Technologies IP probes.
The VB440-V is also the first product to feature SMPTE 2022.7 dual redundant stream analysis as an extension of its support for SDIoIP; SMPTE 2022.6, RFC 4175 and AES67.
The VB440-V will be demonstrated by Bridge Technologies at IBC (Stand 1.F68). The company will also feature a technology demonstration of a 100 Gigabit IP probe.
"The VB440-V addresses two issues of significant concern to broadcasters: the transition to higher Ethernet speeds, and the need to support SDIoIP," said Simen K. Frostad, Chairman, Bridge Technologies. "It provides a highly cost-effective solution that is future-proof, with support for network speeds higher than those currently typically employed by the industry. Moreover, it´s a sound investment, as it is a development of a proven product family, currently implemented by major organisations around the world, and is compatible with major initiatives such as AIMS and ASPEN."
The VB440-V is designed for the full cross-section of services commonly found in media-related network operations. It is a multi-use tool to monitor network performance involving signal formats and areas as diverse as video IP multicast/unicast, video OTT/ABR streaming, video-on-demand unicast, Ethernet packet micro bursts, PCAP recording and general traffic protocol inspection. Optionally available with the VB440-V is the award-winning ETR290 Engine including the Gold TS automatic reference capability.
Up to 500 OTT/ABR streams may be monitored at the master play-out or at the CDN origin server in all common streaming formats using the bulk OTT option. Streaming formats supported currently include Smooth Streaming, HLS, HDS, DASH and basic RTMP. Up to 2,000 IP streams can be monitored and analysed with measurement analytics available via easy drill-down functionality and the patented Bridge Technologies MediaWindow™ user interface, which provides easy-to-assess graphical visualisation of the data.
The VB440-V takes the proven architecture of the Bridge Technologies VB330-V, but delivers, in effect, 8x the capacity of the VB330-V. Developed for data center or broadcast studio deployment, the VB440-V can be installed almost instantly on any standard high-performance server with the appropriate network interfaces to allow rapid scaling of capacity. Through its EII (External Integration Interface) the VB440-V can be integrated with any third-party management and data systems.
About Bridge Technologies
Bridge Technologies creates advanced solutions for protecting service quality in the digital media and telecommunications industries. The company's award-winning monitoring/analysis systems, intelligent switchers and virtual environments help deliver over 20,000 channels to more than 900 million subscribers in 94 countries. From head-end satellite ingress to microanalytics in the home network, Bridge Technologies offers patented innovation and true end-to-end transparency. A privately held company headquartered in Oslo, Norway, Bridge Technologies has worldwide sales and marketing operations through a global business partner network.
Press Contact:
Fiorenza Mella
XPresso Communications
Tel: +31 71 523 82 10
Email: [email protected]