Bridge Technologies Add Dolby E monitoring to VB440
April 15, 2023
compression solution now accommodated by the production probe
Bridge Technologies will be using NAB 2023 (Booth C4939) to demonstrate the enhanced audio functionalities that they have brought to their leading production probe, the VB440. Of particular focus will be the addition of Dolby® E monitoring capabilities, which allows multi-channel audio to be compressed for more efficient transport. The addition represents Bridge's commitment to developing a probe that can accommodate monitoring and creative visualization for all of the standards – audio and video – that a production facility might choose to adopt. 
Designed for the monitoring and analysis of ST 2110 and ST 2022-6 defined high-bitrate broadcast media traffic, the VB440 is a crucial component of core broadcasting networks, production studios, master control centres and outside broadcast vehicles and venues. It represents an award-winning monitoring solution for IP and SDI-encapsulated production environments, delivering ultra-low latency analytics of compressed and uncompressed data to provide creatives and technicians alike with the deep insight they need to ensure error-free delivery of live and recorded broadcast, from any remote location across the globe.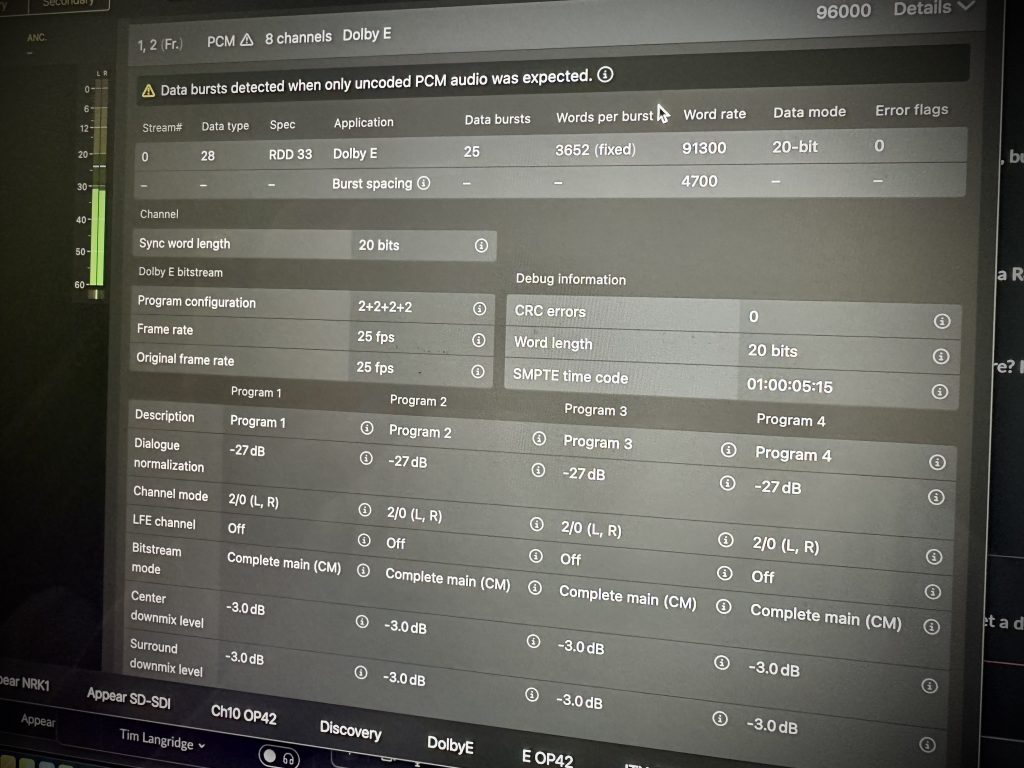 The addition of yet greater accommodation of audio standards builds upon the already extensive audio capabilities of the probe, which grant engineers deep insight into audio performance through the incorporation of a carefully designed set of LUFS, Gonio and room meters, and allows them to perform their work from anywhere in the world on a remote or distributed basis, particularly through the existing ability to preview multi-channel audio in stereo downmix using headphones through any HTML-5 browser. 
Specifically, the addition of Dolby E means that audio engineers have the ability to monitor productions employing this solution also. 
Dolby E is an audio compression and decoding technology that facilitates the compression of multichannel audio into an AES3 digital audio stream, which can then be stored as a stereo pair in order to facilitate lower bitrate transfer between production facilities and distribution centres. This is critical for broadcasters working with limited bandwidth. With Dolby E, operators can deliver elevated viewing experiences to their audiences in more limited operational environments.
Speaking of the new additions, Chairman Simen Frostad said: "Coming from an audio engineering background originally, I am always secretly the most excited about the audio enhancements we make in our probes. The addition of Dolby E is significant in what it allows audio engineers to do, both creatively and logistically." 
He continued: "The addition represents the ongoing mission of Bridge Technologies to position the VB440 as the most comprehensive, single-space production tool on the market, delivering not just an extensive range of engineering and creative tools on a remote basis, but ensuring that these tools can be applied to all of the major standards currently being deployed in production spaces. Last NAB we were able to demonstrate the addition of visual compression standards such as JPEG-XS, and now, for the centenary celebration, we'll be focusing on the fact that we also accommodate the full range of audio solutions from Dolby." 
More information about Bridge Technologies and its products is available at www.bridgetech.tv or by phone at +47 22 38 51 00.
About Bridge Technologies
Bridge Technologies creates advanced solutions for protecting service quality in the digital media and telecommunications industries. The company's award-winning monitoring/analysis systems, intelligent switchers and virtual environments help deliver over 20,000 channels to more than 900 million subscribers in 94 countries. From head-end satellite ingress to microanalytics in the home network, Bridge Technologies offers patented innovation and true end-to-end transparency. A privately held company headquartered in Oslo, Norway, Bridge Technologies has worldwide sales and marketing operations through a global business partner network.
Learn more – www.bridgetech.tv
Bridge Technologies Contact:
Simen K. Frostad
Chairman
Tel: +47 22 38 51 00
Email: [email protected]
Press Contact:
Fiorenza Mella
XPresso Communications
Tel: +31 71 523 82 10
Email: [email protected]