Bridge Technologies Announces PoE+ Tabletop Aluminum Kit
September 23, 2020
A unique form factor for 'accessible anywhere' analytics
Bridge Technologies today announces a new range of data display options; the PoE+ Tabletop Aluminum kit.
Contained within a stylish aluminum casing for an 11 inch iPad Pro, the PoE+ Tabletop kit facilitates display of the intuitive, analytical capabilities of the VB440, providing a flexible, portable and stylish HTML5-based visual display of packet behaviours in a way that allows anyone, anywhere to monitor network data.
Most importantly, this 'accessible anywhere' approach is facilitated through the Power over Ethernet Plus (PoE+) technology supplying the unit directly with both its energy and networking needs. Fully redundant wired Gigabit Ethernet connection speed is enabled on the iPad Pro. Because the system harnesses this highly unique PoE+ capability, it provides unrivalled reliability, stability and convenience – and eliminates reliance on the presence of a physical power socket or (often unstable) Wi-Fi connection.
Further, by making use of a readily established and easily available iPad Pro screen type (supplied on a 'Bring Your Own' basis), the Tabletop kit excludes the need for expensive production monitors, whilst maximizing ease-of-use through intuitive touch navigation. With ultra-fast GPU and CPU, and HDR capable retina display with high colour accuracy, the PoE+ Tabletop Aluminum Kit is able to display VB440 outputs with speed and precision.
This robust and flexible solution has been designed to support the fundamental raison d'être of the VB440; the ability to visually access and assess IP network performance and packet transfer from anywhere in the world, and make use of that information at any point along the creation chain, end-to-end, from production to distribution.  The versatility of the Kit gives it an unrivalled form factor in production environments, allowing for discreet, space-saving mounting in whatever configuration is required.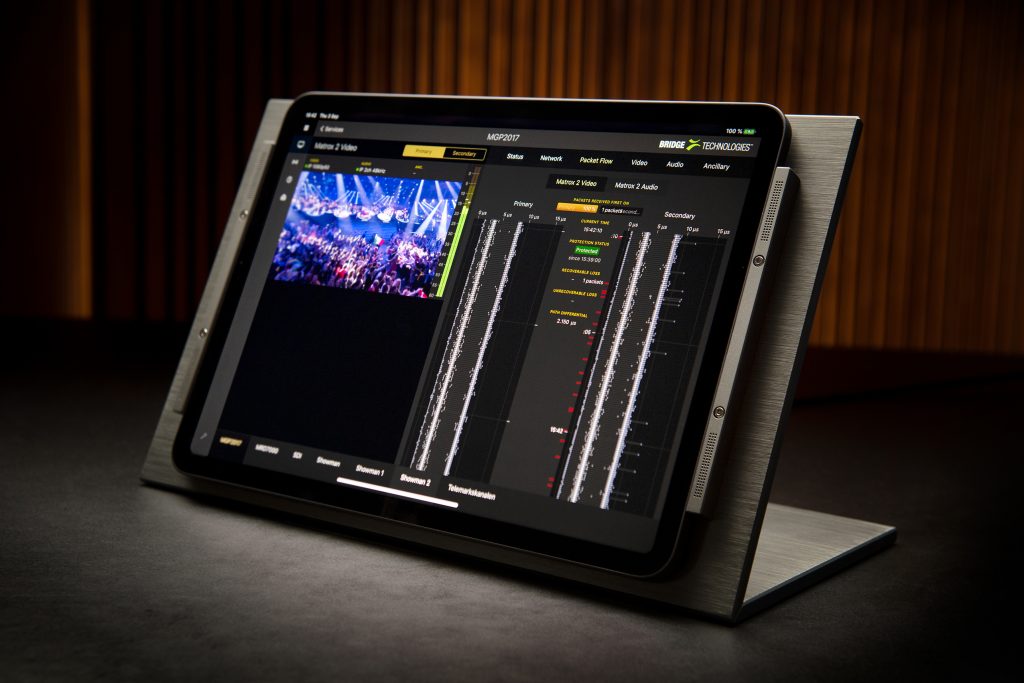 Bridge Technologies' Chairman, Simen Frostad, said of the PoE+ Tabletop kit: "As Bridge moves further forward in providing holistic, end-to-end monitoring solutions throughout the entire creation process -including acquisition, contribution, OTT, traditional broadcast and satellite – it becomes even more vital to support this strategy with display options that can be used in the most challenging, tightly configured operating environments. By harnessing PoE+ to limit cable clutter, we are maximizing the spaces where access to VB440 data can be taken advantage of: particularly that of OB vans."
The Bridge Technologies PoE+ Tabletop Kits essentially represent the 'front end' of an ultra-low latency, HTML5-based system which uses dual 100 gigabit interfaces to accommodate remote monitoring across even the highest-end projects, including SD, HD, 4K and 8K. It takes the ability of an already unique and award-winning technology (the VB440) and Bridge's unmatched expertise in the behaviour of IP network packets across the full range of ST 2110 – and makes it accessible to anyone, anywhere; be this a camera painter operating independently and remotely, or a network manager evaluating overall strategic performance.
As with all Bridge products, attention to build quality, functionality and reliability remain foremost concerns. As such, the Kit maintains Dual gigabit Ethernet PoE+ ports with Neutrik etherCON cable connectors and advanced sensing mechanisms to detect failure and switch from the primary network to the secondary if needed, whilst military grade transformers ensure stable power delivery and compatibility with the PoE+ standard. It also includes a specially manufactured USB-C cable for high speed connection with the external electronics.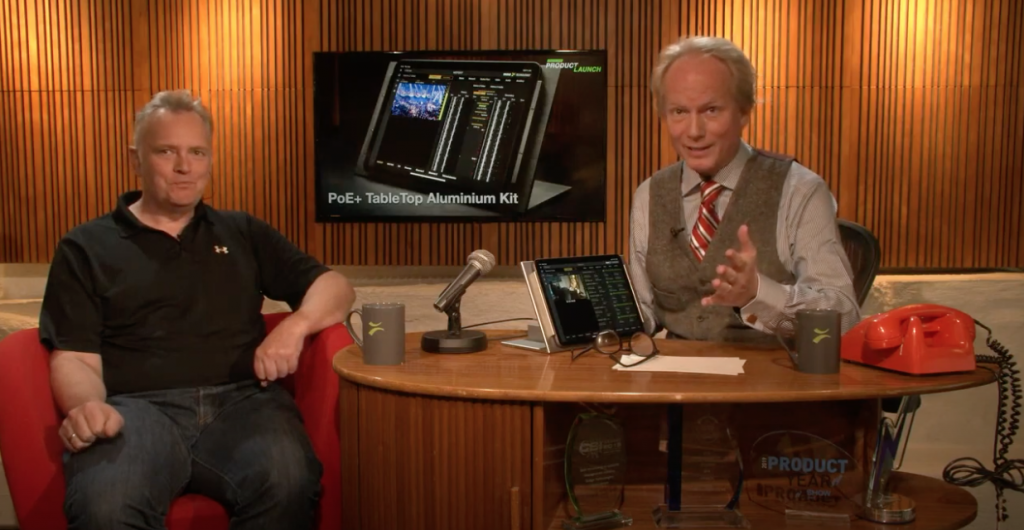 This video will let you discover more about the PoE+ Tabletop Aluminum kit. Further information about Bridge Technologies and its products is available at www.bridgetech.tv or by phone at +47 22 38 51 00.
About Bridge Technologies
Bridge Technologies creates advanced solutions for protecting service quality in the digital media and telecommunications industries. The company's award-winning monitoring/analysis systems, intelligent switchers and virtual environments help deliver over 20,000 channels to more than 900 million subscribers in 94 countries. From head-end satellite ingress to microanalytics in the home network, Bridge Technologies offers patented innovation and true end-to-end transparency. A privately held company headquartered in Oslo, Norway, Bridge Technologies has worldwide sales and marketing operations through a global business partner network.
Learn more – www.bridgetech.tv
Press Contact:
Fiorenza Mella
XPresso Communications
Tel: +31 71 523 82 10
Email: [email protected]