Bridge Technologies to Focus on QoE, QoS at ANGA COM
May 30, 2016
At this year's ANGA COM (Hall 10.1 – Booth V20) Bridge Technologies is focusing on the company's award-winning Objective QoE with QoS monitoring technology, which brings new levels of functionality and productivity to operators, enabling them to substantially improve viewer experience and increase consumer satisfaction.
At ANGA COM, we're showing how Bridge Technologies has transformed QoE, using exclusively objective criteria and delivering meaningful, actionable information in real time.
Objective QoE
Bridge Technologies' Objective QoE methodology delivers quantifiable video and audio monitoring of MPEG-2, H.264/MPEG-4 and H.265/HEVC streams at the point of transmission. It provides data and error alerts based on the detection of key errors occurring in media delivery – including audio silence, colour freezes, colour black, and freeze frames – to alert operators reliably to failures affecting QoE. An alarm based on these criteria means that a genuine failure requires immediate remedial action; unlike traditional systems, the methodology delivers no false positives, maximizing user confidence in its output.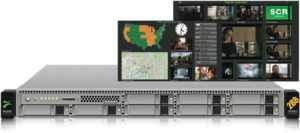 Quality of Experience monitoring with Objective QoE can be incorporated into any Bridge Technologies monitoring infrastructure, running in tandem with the system's sophisticated QoS monitoring capabilities.
A key element within Bridge Technologies' Objective QoE is the VB288 Content Extractor, a server-based system for confidence verification and monitoring of QoE, allowing technical personnel to view each channel as transmitted, from any point within the transmission chain. It combines monitoring of real-time streams and OTT services within a browser-based video wall that delivers full, view-anywhere visual status and analysis.
The VB288 provides the same status information as for a real-time broadcast video stream, including thumbnails, audio decoding, and an array of alarms (including loudness compliance alarms) together with specific alarms for OTT errors such as misalignment of different profiles within the stream. Deployment for a typical system is achievable within only a few hours – a key benefit when rolling out this type of hard-to-calibrate service.
"The traditional conception of separate domains for QoE and QoS, is now out of date," said Simen Frostad, Chairman of Bridge Technologies. "With Bridge Technologies' advanced monitoring systems, QoE and QoS are part of the same continuum, both capable of delivering objective, empirical data. QoE and QoS data may come from different points in the delivery chain and be represented in different ways to the monitoring staff, but it's the close correlation between QoE and QoS data within the same integrated environment that allows operators to reach a higher plane in the pursuit of quality."
Gold TS Protection
Bridge Technologies is also discussing with ANGA COM visitors the latest developments for its Gold TS Protection, a new technology that makes monitoring for digital services much quicker to set up, and fault-tracking much faster, more accurate and more secure. Gold TS Protection includes all the checks specified by the ETR290 standard, but goes much further to include testing for critical conditions missed by ETR290 that can seriously affect subscribers, but that are overlooked by standard monitoring systems based only on ETR290.
Importantly, Gold TS Protection significantly simplifies setup while providing a much more accurate and comprehensive monitoring safety net. The stream is continually analysed and compared with the reference. The time taken for error resolution is greatly accelerated – typically by a factor of 10-15, enabling maintenance staff to effectively monitor larger numbers of streams.
New services initiative
The company will also reveal a new-model services package initiative at ANGA COM 2016. This provides customers with automated off-site data backup, system-wide automated software updates, remote hands-on technical support, and a planning and provisioning consultancy package.
New virtualised probes
In addition, Bridge Technologies will be describing new virtualised probes that allow users to pick and mix the most effective combination of software and hardware monitoring nodes.
Remote Data Wall
The company is also highlighting its Remote Data Wall (RDW), which received a Best of Show award at NAB 2016. RDW provides a more powerful way to create a customised 'flight deck' of data instruments through an easy-to-use widget toolkit. A versatile and adaptable tool for creating a customised monitoring display in the control centre, it can be accessed on the net from any connected location.
Bridge Technologies will also be talking to visitors about Timeline, a new technology for exploring monitoring data in a live NLE-style interface, giving users a completely new level of understanding of faults and outages, and providing a powerful way of verifying SLAs and validating regulatory obligations.
About Bridge Technologies
Bridge Technologies creates advanced solutions for protecting service quality in the digital media and telecommunications industries. The company's award-winning monitoring/analysis systems, intelligent switchers and virtual environments help deliver over 20,000 channels to more than 900 million subscribers in 94 countries. From head-end satellite ingress to microanalytics in the home network, Bridge Technologies offers patented innovation and true end-to-end transparency. A privately held company headquartered in Oslo, Norway, Bridge Technologies has worldwide sales and marketing operations through a global business partner network.
Press Contact:
Fiorenza Mella
XPresso Communications
Tel: +31 71 523 82 10
Email: [email protected]