Bridge Technologies Integrates SR Live Metadata into VB440
May 3, 2022
Development sees Bridge support Sony's SR Live for HDR technology
Bridge Technologies today announces the integration of a new functionality to the VB440 that provides the ability to monitor and display SR Live Metadata directly within the VB440's GUI.
The VB440's inclusion of this monitoring ability currently represents a new and the latest third-party hardware able to accommodate and monitor using Sony's SR Live for HDR technology in the context of both live and post-production broadcast.
This addition is very much in line with the raft of developments that have been made to the VB440 over the past two years. Bridge's leading production-based IP probe has seen a host of expansions which have led to its development as an increasingly holistic tool that serves creatives, producers, technicians and broadcast executives alike, in a range of production contexts. The addition of SR Live Metadata capabilities represents yet one more expansion to the multitude of tools, standards and formats which the VB440 can not only monitor, but turn into meaningful and usable data for creatives to use on-the-fly in remote and live production settings.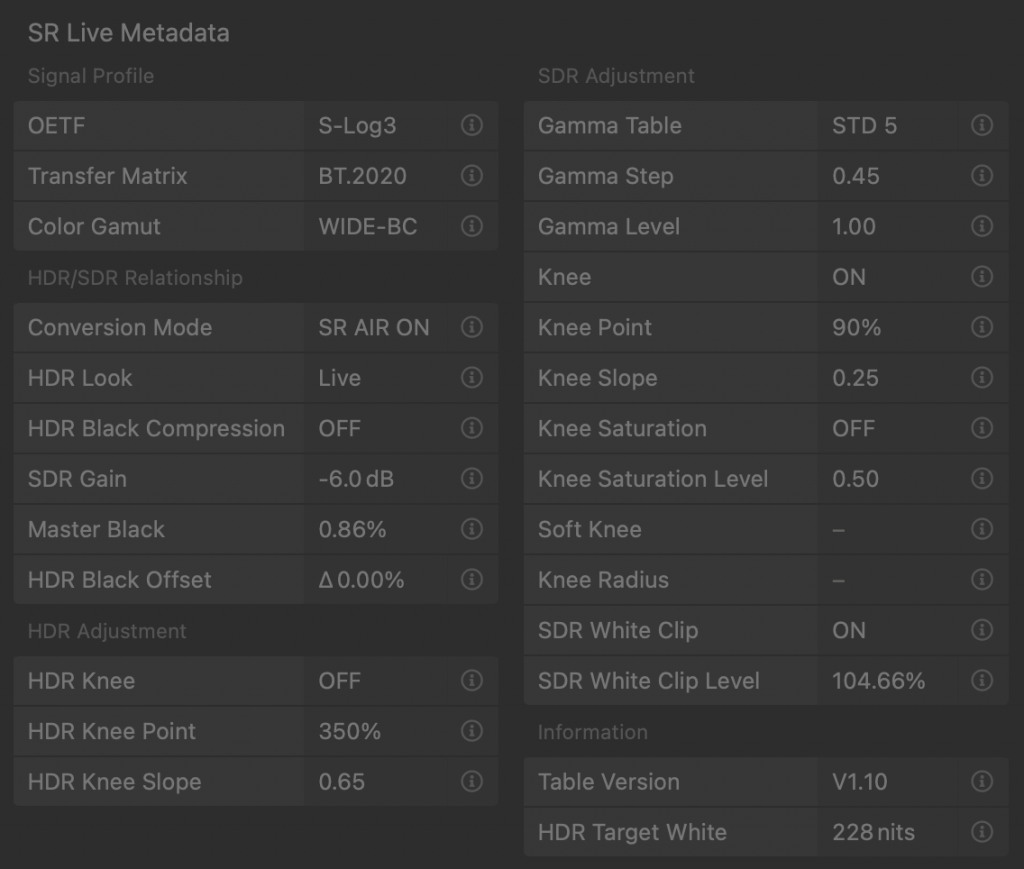 Concerned as they are with simultaneous HDR and SDR delivery, the SR Live Metadata is perfectly aligned with the VB440's increasing focus on facilitating dual HDR/SDR production. SR Live Metadata can be embedded in SDI signals, MXF files, and IP networks, and by combining with compatible products, it is possible to simplify operations and prevent setting mistakes during conversion. Thus, the purpose of SR Live Metadata within the VB440 is to register the creative decisions and adjustments from the cameras during production, from which the data can then be checked to ensure that the quality of signals and packet behaviours across the broadcast chain – from the initial camera output, all the way along the chain through switches, encoders and other network components – matches that which was originally defined by camera shaders at the point of production. Providing this initial point of reference in relation to SR Live Metadata direct from cameras on the network makes the identification of potential issues further down the chain clearer, easier and more efficient.
The focus of Bridge Technologies is to support Sony's SR Live for HDR technology to push the boundaries of HDR production. The technology pursues the ability to do more with less, using single production crews to deliver outputs which can be flexibly distributed according to a range of standards and needs. This sits at the heart of the VB440's mission statement, which is to eliminate the need for complex (and expensive) additional rack equipment and display monitors, and instead allow for a holistic suite of production activities to be undertaken through nothing more than an HTML5 browser.
Speaking of the new addition, Chairman for Bridge Technologies, Simen Frostad said: "It's a privilege and a pleasure to be working with Sony in pushing forward their impressive and much-needed SR Live for HDR workflow by accommodating the use of SR Live Metadata within the VB440. And becoming an SR Live for HDR licensee simply makes good sense to us; we've been leading the way when it comes to forwarding IP workflows in the field of broadcast, and so aligning with other like-minded, high-level and progressive industry practitioners is always rewarding".

He continued: "The addition of the SR Live Metadata as a tool for both creatives and engineers making decisions at the point of capture and further down the broadcast chain aligns with exactly what the VB440 has been doing – and will continue to do – for some time now, across an increasing range of standards, formats, workflow approaches, network setups and production environments. The integration yet further cements the indispensability of the VB440 as a multi-purpose but highly focused tool in remote and distributed production environments".
More information about Bridge Technologies and its products is available at www.bridgetech.tv or by phone at +47 22 38 51 00.
About SR Live Metadata and SR Live for HDR
SR Live Metadata is a group of data required for mutual conversion of HDR/SDR contents in the "SR Live for HDR" solution that simultaneously produces HDR/SDR contents. It can be embedded in SDI signals, MXF files, and IP networks, and by combining with compatible products, it is possible to prevent setting mistakes during conversion and simplify operations.
SR Live for HDR is a solution proposed by Sony Corporation which enables simultaneous and efficient HDR/SDR content production.
About Bridge Technologies
Bridge Technologies creates advanced solutions for protecting service quality in the digital media and telecommunications industries. The company's award-winning monitoring/analysis systems, intelligent switchers and virtual environments help deliver over 20,000 channels to more than 900 million subscribers in 94 countries. From head-end satellite ingress to microanalytics in the home network, Bridge Technologies offers patented innovation and true end-to-end transparency. A privately held company headquartered in Oslo, Norway, Bridge Technologies has worldwide sales and marketing operations through a global business partner network.
Bridge Technologies Contact:
Simen K. Frostad
Chairman
Tel: +47 22 38 51 00
Email: [email protected]
Press Contact:
Fiorenza Mella
XPresso Communications
Tel: +31 71 523 82 10
Email: [email protected]