Bridge Technologies January Blog Post
January 23, 2020
2020: Looking Back to Look Forward
The last time we had a year like 2020 was 1919 (and, before that, 1818, 1717, 1616…). 1919 was a significant year because Germany, Luxembourg, and the Netherlands gave women the right to vote. American-born Nancy Astor became the first woman elected to the British House of Commons. And: the oldest airline still in existence – Koninklijke Luchtvaart Maatschappij, which you probably know better as Royal Dutch Airlines/KLM – was established in 1919.
What can we look forward to in 2020? Well: NASA is planning to launch a mission in July to find out whether Mars might be habitable (but it won't land till 2021…). In fact, the planet is going to be a popular destination this year: the European Space Agency (ESA) and the Russian space agency Roscosmos are sending a craft 260 million kilometres to search for signs of past life. Another US presidential election happens in November. And: if you're a sports fan, it's going to be a great year with the Olympics in Tokyo; Euro 2020 football across the continent; and the ICC T20 Cricket World Cup in Australia.
20/20 vision
Yes: looking forward is what we like to do at this time of year. And, speaking of 'looking': do you have 20/20 vision? If you do, you probably think your eyesight is about as good as it can be. Well: no… It turns out, 20/20 means little more than you can read the middle row of letters on a Snellen chart from 20 feet. Your vision is normal. If you can read the letters below that line, your vision would be better than average: 20/16 or 20/10. If, on the other hand, you could only read the big E at the top of the chart, you'd have 20/200 vision – and considered legally blind. Hawks are believed to have 20/2 vision: they can see from 20 feet what someone with normal vision would have to be just 2 feet away from.
There: far more than you wanted to know about eye tests… Let's return to looking forward. Wise men have long believed it's not a great idea to try to foretell the future. The ancient Chinese philosopher Lao Tzu – a man who spoke almost entirely in quotable quotes, it seems – was of the opinion that those who have knowledge, don't predict – and that those who predict have no knowledge. The Danish physicist Niels Bohr is famously (and amusingly) quoted as having said that "It's difficult to make predictions – especially about the future".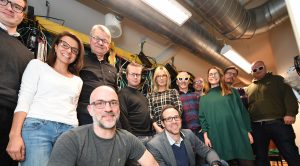 Big data, AI
But then, neither of them would have been familiar with the concepts of big data, AI and predictive analytics. Many clever people have long believed that, in many instances, the future can be predicted by analysing the past. If you can discern patterns, they give some powerful clues: if a certain set of circumstances has produced an identical result nine times, the chances are, they will produce the same outcome on the tenth occasion. (And, never forget: a classic, if not wholly accurate, definition of insanity is "doing the same thing over and over again and expecting a different result".) Big data and AI are giving us an incredible ability to identify patterns – and from them, to extrapolate the future.
So: based on the patterns we can identify in 2019 – how do we predict that 2020 will turn out for us at Bridge Technologies and all our valued partners and vendors? 2019 has been a great year for us – and we believe 2020 will be even better, because the same vectors that drove our business in the past 12 months (primarily, the accelerating adoption of IP throughout the content distribution world) will become even more significant market forces.
Innovation, leadership
It's also been an excellent year for trade shows, working with our partners to get the message out there – and culminating in our wonderful high visibility (and highly productive) presence at IBC 2019. And we won 'Best of Show' for the Widglets API! (We also won the prestigious SCTE Award for the VB330.) You can expect more of that from us in the coming year.
At IBC, we also demonstrated – again – our innovation and technology leadership with the VB440 operating in an 8K environment, showing how our ground breaking probe is a future-proof investment for our customers. We have an exciting roadmap of new product introductions planned for 2020: watch this space!
2019 also saw our best ever partner event, celebrating our 15th birthday, where we blocked off an entire street in Oslo with NEP's HD4 OB truck so that we could show how Bridge Technologies is transforming what's possible with remote production. We've already started planning our 2020 event…
In summary: we're hugely excited about what 2020 will bring – and we hope everyone we work with shares our excitement. Best wishes from all of us at Bridge to you, your families and your teams for a happy and prosperous new year.