Bridge Technologies October Blog Post
October 31, 2019
IBC 2019: a great recognition of what we are doing
By Simen K. Frostad
Even if you're a pretty confident person, and you're fairly sure that what you're doing is right – to get confirmation from others is always good. At Bridge Technologies, we're confident – we should be after the successes of the past 15+ years – but one of the great things that came out of this year's IBC was the regular validation from almost everyone we spoke to that, yes, what we're doing is exactly what the industry wants us to be doing.
Our new, much bigger, high profile booth – strategically situated at the entrance to Hall 1, where no-one could miss us – gave us exactly what we needed to show the industry our full suite of monitoring and analytics systems.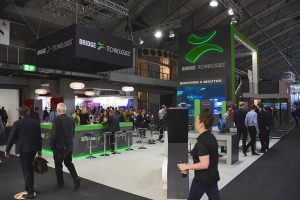 What was interesting was how what we're developing resonated with many of the key themes that emerged from IBC 2019. There was, for example, much talk of "doing more with less". Many exhibitors were discussing what's become known as "the customer journey" – how do we get from where we are today to where we need to be in the future – and how do we keep our options open in an uncertain world? Inevitably, there was also a great deal of focus on the opportunities – and challenges – presented by delivering live content, and the role of remote production. What we were showing, and discussing with visitors, played really well into all those areas.
Widglets front and centre
So: what were we showing? Unsurprisingly, our new Widglets API was front and centre of many conversations. Hopefully, Widglets isn't new to you – but if it is, what you need to know is that it's an HTML5 video monitor option for the VB440: customers can simply embed it into their own HTML code.
Why would they do that?
OB vans are always challenged for space – there's never enough to fit everything in. Before Widglets, if you wanted to monitor five camera feeds, you needed to buy, configure and install five monitors. Those things aren't small. Now, however, it's possible to monitor all those five camera feeds from a single browser screen – saving a huge amount of space (not to mention money). Even better: there's absolutely no compromise on functionality. All the capabilities you'd get from a video monitor – video player, time code monitor, safe areas, audio monitor, waveform vectorscope and so on – you get with Widglets. Talk about "doing more with less"!
We were interviewed by InBroadcast about Widglets. The interviewer's feedback? "So cool".
It wasn't just about Widglets, though. IBC saw our first major public demonstration of the VB440 operating in an 8K environment. Of course, for many operators the need for this capability may be a little way off – but the point we wanted to make was to demonstrate that, for customers uncertain about what the future might hold, the VB440 represents a truly future-proof solution: they can invest in it today, and be confident that, as the broadcast world changes, the VB440 will still be capable of doing what they need it to.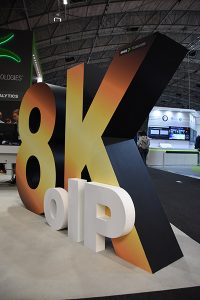 Admiring glances
Unsurprisingly, our showcase of Remote Data Wall – RDW – also drew a number of admiring glances. In a world in which where you are makes very little difference to what you can do, the ability to be on another continent and still see how your network is performing is remarkable.
Which brings me to the panel discussions in which we participated. One of these was the Haivision SRT Panel. You'll probably be aware that we recently announced that we have joined the SRT Alliance, a 250-member organisation committed to the success of the Secure Reliable Transport protocol that is designed to facilitate low latency streaming across any network. It's going to be extremely important, not least because we expect it to fuel a new explosion in live content. The SRT panel was a great opportunity to talk to a packed room about our history and what we've achieved. But: what really caught the audience's attention was seeing real time metrics of our network back in Norway – on a phone! Now that's remote monitoring.
And what did the panel chairman say? "Very cool stuff."
We also took the opportunity to tell those present that we expect to be making an important announcement relative to the SRT Hub in 6-9 months' time.
More awards
Another panel in which we had the opportunity to participate was the IBC InterComms Round Table, which was set up to look at the crossover between telecoms and broadcast. That's a subject close to our hearts, of course, especially in a world with increasingly diverse ways – satellite, cable, digital terrestrial, Wi-Fi, 5G and so on – of delivering content. Here, too, the value of what we are doing was reinforced: it's important to see what's happening, but no less important to understand why it's happening. For that, you need a lot of data to fault-find – or at least point a finger in the right direction. We came away seeing a huge opportunity to work more closely together.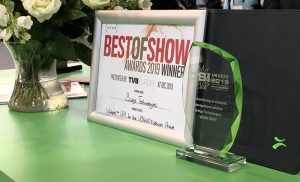 And, last but not least… Having people telling us what we're doing is "cool" is one thing. Winning awards for your cool stuff is on a whole different level, though. We were thrilled to win the IBC Best of Show Award for the Widglets API – and also to receive for our VB330 with Remote PHY an Honourable Mention in the CSI Awards "Best Monitoring or Network Management" Awards. That's two more pieces of glassware to add to our growing collection.
All in all, a great IBC. A great stand, some great visitors, some great discussions – and, best of all, great recognition of what we're doing.