Bridge Technologies Partners with Germany's Broadcast Solutions
December 7, 2020
United by a focus on IP-based, future-proof production environments, and a commitment to customer service
Bridge Technologies today announces partnership with systems integrator Broadcast Solutions. Founded in Germany 17 years ago, Broadcast Solutions maintains subsidiaries in Europe, Asia and the Middle East, and have planned and implemented high-level broadcast projects around the globe.
With the majority of their business activities focused on assisting in the creation of both mobile and studio-based production centres, the integration of the VB440 into Broadcast Solutions' product offerings will be of significant importance – offering as it does breakthrough monitoring and analysis of ST2110 and ST2022-6 high-bitrate broadcast media traffic in production studios, master control centres and outside broadcast vehicles and venues. Of course, Bridge's full product list will also be available to Broadcast Solutions to give them maximum range and flexibility in the monitoring solutions they can offer customers.
Broadcast Solutions operates as a manufacturer-independent systems integrator; and this objectivity in terms of product solutions combined with their choice to carry Bridge products is testament to the fact that Bridge provides stand-out solutions in their field, which justify inclusion in any production setup on the basis of both their technological innovation and raw processing power, and the deep-dive analytics capabilities and intuitive presentation of data they offer.
"We're extremely pleased to be working closely with Broadcast Solutions.", said Simen Frostad, Chairman and joint-founder of Bridge Technologies. "Not only do they represent experts in the field of designing and implementing future-proof production environments – meaning that we can be confident of their technical expertise in explaining, implementing and coordinating our products within complex set-ups – but they also echo our philosophy of fostering close relationships with customers. The level of support they provide before, during and after implementation is really important to us".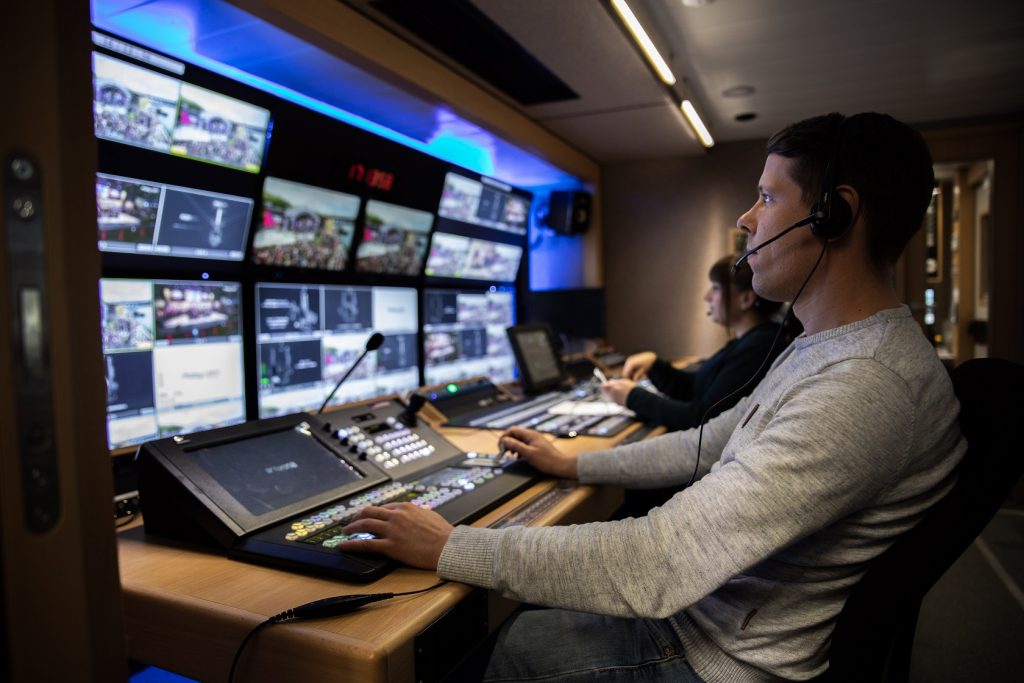 This support is in part evidenced by Broadcast Solutions' recent h-BID (hybrid-Broadcast Innovation Days) presentation series, which aired from the 3rd to 5th of November. The series includes discussions, product presentations, innovations and one-on-one meetings to show and discuss key innovations in systems integration, IP-based production, and workspace/workflow concepts. These innovation days aim to provide support, insight and knowledge to customers and potential customers alike.
Petteri Pulkkinen, Sales Manager of Broadcast Solutions Finland said: "Bridge Technologies' products are a natural addition to our product range offering, representing as they do cutting-edge, future-proofed, IP-based monitoring solutions. But as a company, they also represent a natural partner – driven by a philosophy of innovation and ongoing improvement, and focused on delivering excellence in terms of customer experience and support. We look forward to a prosperous ongoing relationship".
More information about Bridge Technologies and its products is available at www.bridgetech.tv or by phone at +47 22 38 51 00.
About Broadcast Solutions
Founded more than 17 years ago in Germany, Broadcast Solutions is one of the largest systems integrators in Europe that offer services worldwide in all areas of broadcasting, media production, content  creation and distribution.
With more than 200 employees, we operate as a manufacturer-independent systems integrator and offer our customers tailor-made solutions – from conception to implementation and beyond. Our goal is a long-term partnership with our customers.A significant part of our success is our close relationship with our customers – the consultation before and during the project phase, as well as the service and support after successful implementation. A worldwide active company with a German heritage. Learn more – https://broadcast-solutions.de
About Bridge Technologies
Bridge Technologies creates advanced solutions for protecting service quality in the digital media and telecommunications industries. The company's award-winning monitoring/analysis systems, intelligent switchers and virtual environments help deliver over 20,000 channels to more than 900 million subscribers in 94 countries. From head-end satellite ingress to microanalytics in the home network, Bridge Technologies offers patented innovation and true end-to-end transparency. A privately held company headquartered in Oslo, Norway, Bridge Technologies has worldwide sales and marketing operations through a global business partner network.
Learn more – www.bridgetech.tv
Press Contact:
Fiorenza Mella
XPresso Communications
Tel: +31 71 523 82 10
Email: [email protected]