Remote Data Wall "Highly Commended" by CSI Judges
September 19, 2016
Bridge Technologies today announced that its innovative Remote Data Wall was 'Highly Commended' by the judges in the 'Best monitoring or network management solution' category of the CSI Awards at a presentation at IBC on 9 September.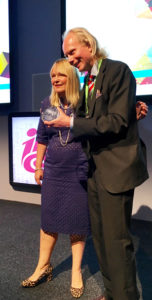 Remote Data Wall (RDW) allows those responsible for network monitoring and management to quickly and easily create a visual representation of network activity, enabling potential problems to be rapidly identified and appropriate corrective action taken.
Depending on the size or complexity of the network being monitored, RDW can spread from a single screen to multiple screens in a videowall format – but requires no specialist skills to install.
"The real magic in what we do isn't so much collecting data about the network. The magic is in how we turn that data into information that is actionable in real time – and that's the role of Remote Data Wall," said Simen K. Frostad, Chairman, Bridge Technologies.
"It's another example of our philosophy of 'making complexity simple'. We're delighted that the CSI Awards judging panel has recognised the vital role that Remote Data Wall can play in helping ensure maximum network uptime and Quality of Service."
Because it is HTML5/browser-based, Remote Data Wall does not require specialist hardware or cabling. It can be viewed locally – in a control room, for example – or remotely from a distant location. Significant flexibility is provided to users in enabling them to select precisely which data should be displayed, and how.
Data can also be gathered from outside sources- from third-party systems, for example, and external information sources such as weather stations, personnel management systems, and booking schedules. A widget can display, for example, windows from the Dataminer management system, mirroring the layout and appearance of the window to maintain a familiar look.
The CSI Awards are organized by CSI (Cable and Satellite International) Magazine, and are designed to celebrate excellence and achievement in the broadcast, video, OTT and IoT sectors.
About Bridge Technologies
Bridge Technologies creates advanced solutions for protecting service quality in the digital media and telecommunications industries. The company's award-winning monitoring/analysis systems, intelligent switchers and virtual environments help deliver over 20,000 channels to more than 900 million subscribers in 94 countries. From head-end satellite ingress to microanalytics in the home network, Bridge Technologies offers patented innovation and true end-to-end transparency. A privately held company headquartered in Oslo, Norway, Bridge Technologies has worldwide sales and marketing operations through a global business partner network.
Press Contact:
Fiorenza Mella
XPresso Communications
Tel: +31 71 523 82 10
Email: [email protected]