Bridge Technologies to Support Australian Nine's Greenfield IP Site
September 21, 2020
The VB440 will enable production teams to continuously survey all layers of media transportation
Bridge Technologies, through Australian business partner Techtel, have now completed their integration of the VB440 IP Probe for Nine Network, an Australian free-to-air digital TV service provider. This integration forms a part of Nine's wider site relocation, involving the creation of a brand new 'creative campus' with Internet Protocol technologies incorporated in its core.
A key element of Nine's site development was the choice to change the data backbone of the studio from an SDI-based environment to a fully SMPTE IP-based infrastructure. This will see Nine working on an uncompressed SMPTE 2110 workflow basis, working with on-air graphics, newsroom systems, post-production, network and infrastructure, and live studio elements.
"Our new offices represent an opportunity to not only bring together our post-merger Willoughby site with our Fairfax site in a more collaborative manner, but also to create an office and studio which are future-proofed for the next 50 years. Key to this future proofing was making a move from SDI to IP. It became readily apparent that IP would render increased efficiency and decreased costs, not to mention the fact that it hugely improves our ability to engage in off-site and live collaborations," said David Bowers, Chief Technology Officer at Nine Network Australia.
Bowers continued: "It appeared clear to us that whilst SDI is declining in relevance in production environments, support in the field of IP is only going to grow. Bridge Technologies represents one such vital element of support; and the integration of VB440 monitoring solutions into the wider installation gives us an unparalleled ability to understand – and therefore control – our production environment."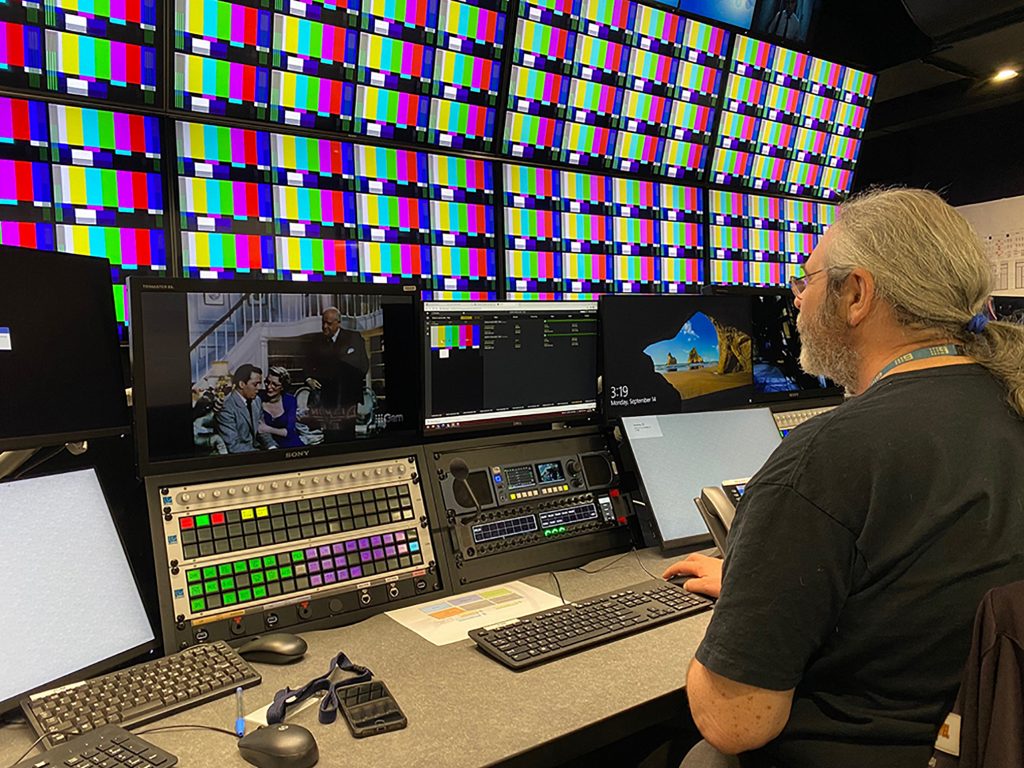 The VB440 provides video, audio and metadata monitoring and analysis on an uncompressed ST2110 basis, and also includes monitoring of ST2022-7 redundancy scheme; an element that is of particular benefit in relation to the back-up needs of the network during day-to-day operation or service migrations. The VB440 represents an analytics solution that can encompass numerous streams and multiple technologies in real time and in parallel. Covering source monitoring, stream analysis, packet behavior, and IAT test performance, the VB440 enables production teams to continuously survey all layers of media transportation on an IP network and facilitates quick rectification of potential problems – including the impact of packet loss and jitter on the production environment and ultimate Quality of Service (QoS).
Payam Safa, Solutions Architect at Techtel – who helped to manage the purchase and installation of the Bridge Technologies system – explained the dual importance of VB440 integration.
"Not only will the VB440 provide Nine with an ongoing ability to monitor their IP-based production network over the upcoming years, but during the transition from SDI to IP it will be a key tool in managing an effective and efficient change and transition process."
Simen Frostad, Chairman of Bridge Technologies, echoed the enthusiasm of both vendor and client in relation to the project. "Nine have built a truly impressive studio, and have been forward-thinking in their approach to network technologies. Building a greenfield site such as this represents a particular opportunity to think about network analytics right from the beginning, and build monitoring elements right into the overall solution, rather than tagging them on at the end."
Frostad concluded: "This is a key idea that Bridge has been a proponent of for more than a decade, and we are pleased to see that a network as important as Nine echoes our views on this. We hope that they will provide an inspirational example to other production companies who may soon be faced with the unique opportunity that comes with a move from SDI to IP of redesigning their systems from the ground up, and building in monitoring and support systems from the get-go."
About Nine Network
The Nine Network (commonly known as Channel Nine or simply Nine) is an Australian commercial free-to-air television network.
Nine's strategy is to create great content, distribute it broadly and engage audiences and advertisers. We are Australia's largest locally owned media company – the home of Australia's most trusted and loved brands spanning News, Sport, Lifestyle, and Entertainment, we pride ourselves on creating the best content, accessed by consumers when and how they want. Nine's assets include the Nine Network, major mastheads such as The Sydney Morning Herald, The Age and Australian Financial Review, radio stations 2GB, 3AW, 4BC and 6PR, digital properties such as nine.com.au, 9Now, 9Honey, Pedestrian.TV, subscription video platform Stan and a majority investments in Domain Group and CarAdvice.
Find more info here: https://www.nine.com.au/
About Techtel
Techtel is a leading independent broadcast technology systems specialist, providing dedicated hardware and software to the Asia Pacific broadcast and telecommunications industries. Techtel's expertise extends from consulting and systems integration through to the supply, installation and support of solutions from an elite class of worldwide partners. The Techtel Group has regional offices in Sydney and Singapore with branches in Auckland and Brisbane. Visit www.techtel.com.au
About Bridge Technologies
Bridge Technologies creates advanced solutions for protecting service quality in the digital media and telecommunications industries. The company's award-winning monitoring/analysis systems, intelligent switchers and virtual environments help deliver over 20,000 channels to more than 900 million subscribers in 94 countries. From head-end satellite ingress to microanalytics in the home network, Bridge Technologies offers patented innovation and true end-to-end transparency. A privately held company headquartered in Oslo, Norway, Bridge Technologies has worldwide sales and marketing operations through a global business partner network.
Learn more – www.bridgetech.tv
Press Contact:
Fiorenza Mella
XPresso Communications
Tel: +31 71 523 82 10
Email: [email protected]