Bridge Technologies VB440 Probe Enthusiastically Received
November 5, 2018
Uniquely supports dual 100 Gigabit interfaces, uncompressed 4K video over IP
Bridge Technologies has announced that its VB440 probe is being widely deployed by customers around the world, with numerous broadcasters expressing their enthusiasm for its unique capabilities that help them ensure optimum deliver of content from source to destination.
The VB440, with its unique dual 100 Gigabit interfaces, is the only device of its kind that supports analytics for uncompressed 4K resolution video over IP and provides customers with the capacity to instantly identify – from anywhere in the world – errors in streams that can result in deteriorated Quality of Experience. Users can select from multiple sources and immediately understand the type of content, its format, its frame rate, its colorimetry parameters and so on prior to inspecting packet behaviours in order to provide insight into what needs to be corrected. The VB440, coupled with the Instrument View user interface, makes the analysis process not only fast, but intuitively simple – an important benefit for those not yet 100% familiar with IP networks.
"Imagine, for example, an environment in which output is delivered from multiple cameras," said Simen K. Frostad, Chairman of Bridge Technologies. "It can be all too easy to misconfigure them, resulting in an unacceptable viewing experience. The VB440 brings new and unparalleled levels of understanding and allows anomalies like that to be rapidly and simply identified, and appropriate corrective action taken immediately."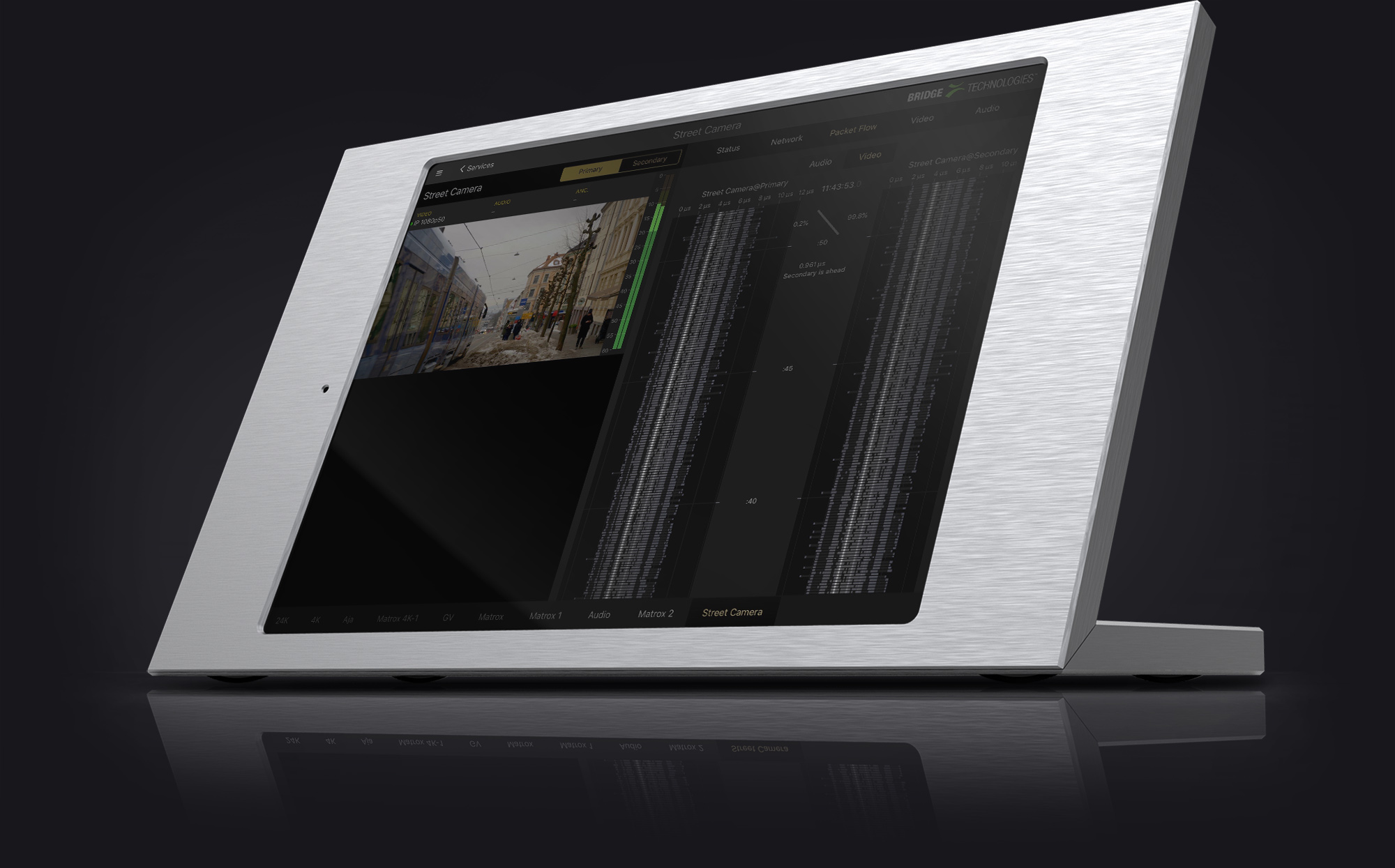 The VB440 would typically be connected to the core of the signal distribution network and, such is its power and capability, it can replace multiple pieces of equipment scattered at various points throughout the delivery chain. The insight it provides can be easily and instantaneously interrogated from any location, giving unprecedented flexibility in, for example, remote production scenarios.
"There is absolutely nothing else available on the market today that can do what the VB440 can do in terms of helping users optimise broadcast quality," continued Frostad. "It represents a completely new approach to how IP networks can be managed. The VB440's power and bandwidth capacity is unequalled – yet it is designed to be used by those who would not call themselves network professionals.  Best of all: it also represents a very cost-effective solution."
The VB440's support for dual 100 Gigabit interfaces allows it to provide analysis of redundant networks as described by ST2022-7. PTP is provided with ST2059-2 clock analysis. It also supports uncompressed media flows over IP with both ST2110 and ST2022-6 transports, providing network operators and digital media organisations with an analytics solution for numerous streams and multiple technologies in real-time and in parallel.
About Bridge Technologies
Bridge Technologies creates advanced solutions for protecting service quality in the digital media and telecommunications industries. The company's award-winning monitoring/analysis systems, intelligent switchers and virtual environments help deliver over 20,000 channels to more than 900 million subscribers in 94 countries. From head-end satellite ingress to microanalytics in the home network, Bridge Technologies offers patented innovation and true end-to-end transparency. A privately held company headquartered in Oslo, Norway, Bridge Technologies has worldwide sales and marketing operations through a global business partner network.
Press Contact:
Fiorenza Mella
XPresso Communications
Tel: +31 71 523 82 10
Email: [email protected]