Bridge Technologies Wins 2020 TV Technology Best of Show Award
September 30, 2020
PoE+ for accessible and meaningful visual IP network analytics
Bridge Technologies today announced that ii has received the TV Technology 'Best of Show' award for the company's new PoE+ (Power over Ethernet) Tabletop Kit.
Representing the 'front end' of the already award winning, ultra-low latency VB440 monitoring solution, the PoE+ Instrument View Kit has been designed to support the fundamental raison d'être of the VB440; the ability to visually access and assess IP network performance and packet transfer from anywhere in the world, and make use of that information at any point along the creation chain, end-to-end, from production to distribution.
Providing access to the deep visual analytics of the VB440 through any HTML-5 browser, the PoE+ Tabletop Kit leverages the style and durability of an iPad Pro screen type, and adds the flexibility, convenience, stability and reliability of PoE+ technology, which supplies the unit directly with both its energy and network needs. Through its incorporation of fully redundant wired Gigabit Ethernet connection, the unit eliminates reliance on the presence of a physical power socket and (often unstable) Wi-Fi connection.
Further, by making use of a readily established and easily available iPad Pro screen type (supplied on a 'Bring Your Own' basis), the Tabletop kit excludes the need for expensive production monitors, whilst maximizing ease-of-use through intuitive touch navigation. With ultra-fast GPU and CPU, and HDR capable retina display with high colour accuracy, the PoE+ Tabletop Aluminum Kit is able to display VB440 outputs with speed and precision.
All of this combines to give the Kit an unrivalled form factor in production environments, allowing discreet, space-saving mounting in whatever configuration is required. By harnessing PoE+ to limit cable clutter, it maximises the spaces where access to VB440 data can be taken advantage of: particularly that of OB vans.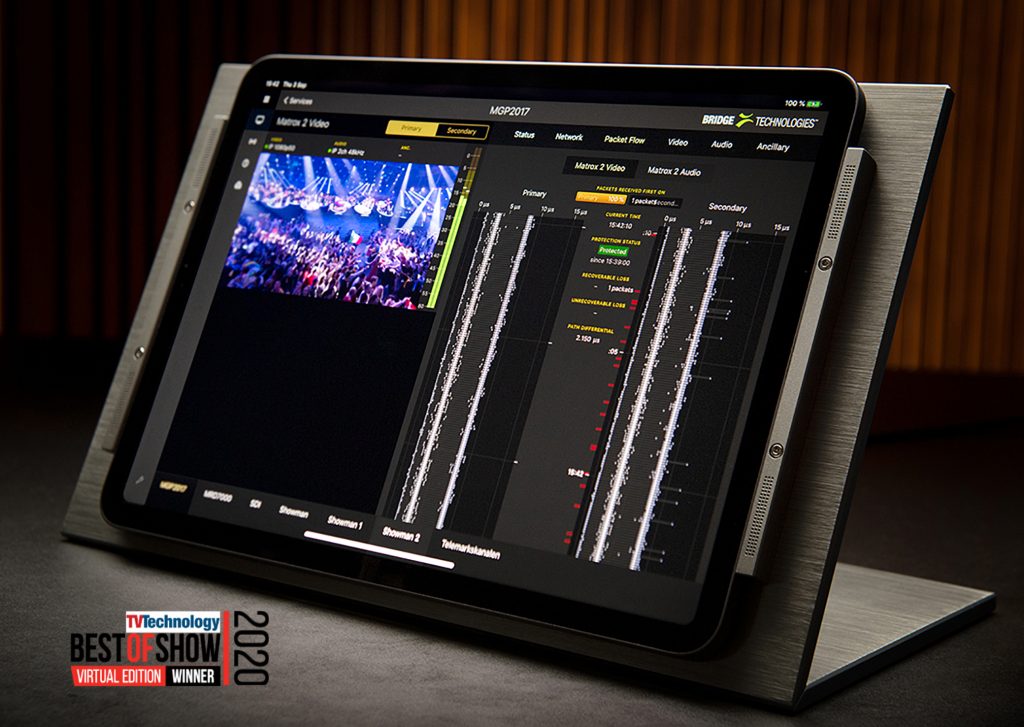 As with all Bridge products, attention to build quality, functionality and reliability remain foremost concerns – key components in the TV Technology's judging criteria, which focus on innovation, feature set, cost efficiency and performance in serving the broadcast industry. As such, as well as maintaining Dual Gigabit Ethernet PoE+ ports with Neutrik etherCON cable connectors and advanced sensing mechanisms to detect failure and switch from the primary network to the secondary if needed, the awarded Kit also makes use of military grade transformers to ensure stable power delivery and compatibility with the PoE+ standard. It also includes a specially manufactured USB-C cable for high speed connection with the external electronics.
"Every year the level of entries goes up a gear and 2020 is no exception. The quality and agility of the technology and solutions on the 2020 IBC Show is testament to the work being done by product and R&D teams throughout this community, and our sincere congratulations go to the winners and all of those nominated for an award. It's important that product development and innovation continues to receive the visibility it deserves despite the lack of physical events." said James McKeown, Group Content Director, B2B at Future.
In response to being awarded the TV Technologies Best in Show, Chairman of Bridge Technologies Simen Frostad said: "We are both pleased and proud that we continue to gain recognition for the innovations we are bringing to the field of IP monitoring and analytics. The PoE+ Tabletop Kit represents a key component of a wider vision: to bring exceptional and meaningful visual IP network analytics to even the most challenging and remote of locations. We have always believed that the ability to visualize network behavior is key to improving production and broadcast quality, and now, with the PoE+ Kit, this can be achieved anywhere in the world, by anyone, in just about any production environment. We're very grateful to TV Technology, and the panel that took the time to reach a judgment."
This YouTube video will let you discover more about the PoE+ Tabletop Aluminum kit.
More information about Bridge Technologies and its products is available at www.bridgetech.tv or by phone at +47 22 38 51 00.
About Bridge Technologies
Bridge Technologies creates advanced solutions for protecting service quality in the digital media and telecommunications industries. The company's award-winning monitoring/analysis systems, intelligent switchers and virtual environments help deliver over 20,000 channels to more than 900 million subscribers in 94 countries. From head-end satellite ingress to microanalytics in the home network, Bridge Technologies offers patented innovation and true end-to-end transparency. A privately held company headquartered in Oslo, Norway, Bridge Technologies has worldwide sales and marketing operations through a global business partner network.
Learn more – www.bridgetech.tv
Press Contact:
Fiorenza Mella
XPresso Communications
Tel: +31 71 523 82 10
Email: [email protected]