Bridge Technologies Wins Best of Show Award at NAB 2018
April 18, 2018
Instrument View recognized for innovation as industry embraces IP
Bridge Technologies' Instrument View has received the NewBay Best of Show Award, presented at the 2018 NAB Show by TV Technology.
NewBay's Best of Show Awards are evaluated by a panel of engineers and industry experts, and are selected based on innovation, feature set, cost efficiency and performance in serving the industry.
Winners receive an award for display and will be featured in TV Technology.
All nominated products are featured in the special Best of Show Awards Program Guide, to be distributed in digital edition form to more than 100,000 readers of TV Technology, Digital Video, Video Edge, Government Video, Radio World, Radio magazine, Pro Sound News and Sound & Video Contractor after the convention.
"We're delighted that Instrument View has been recognized by the industry for the extraordinary value it brings to media professionals as the broadcast industry embraces the benefits of IP," said Simen K. Frostad, Chairman, Bridge Technologies. "In this brave new world, new tools will be needed – and Instrument View is unique in how it brings deep, intuitive understanding to non-experts, making an essential contribution towards helping the industry leverage the advantages of IP technology."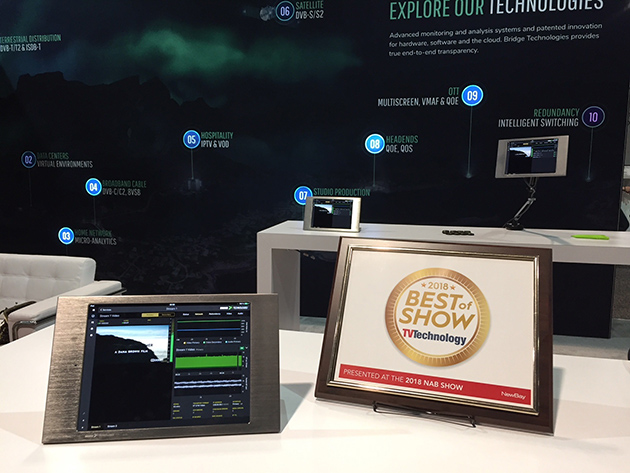 Delivering a high level of speed and accuracy, Instrument View provides an invaluable visualization option for the high performance VB440 IP probe and brings new levels of understanding and productivity to the uncompressed media production process in an IP world, delivering remarkable insights into the quality of the output.
By analyzing packet behavior on the network, it is capable of enhancing the production process – such as at live events – by allowing the production team to actually see uncompressed media content in real time and to ensure it meets the highest standards in video and audio.
Browser-based and also touch screen-capable, Instrument View is simple, intuitive and responsive, and able to fluently adapt to a range of use cases.
"The NewBay Best of Show Awards at NAB are now in their fifth year," said Paul McLane, NewBay managing director, content. "The program seeks to shine a spotlight on relevant innovations in technology as seen around the million-square-foot exhibit floor of the industry's top trade show. The list of 2018 winners and nominees gives real insight into where and how rapidly our media tech businesses are evolving."
About Bridge Technologies
Bridge Technologies creates advanced solutions for protecting service quality in the digital media and telecommunications industries. The company's award-winning monitoring/analysis systems, intelligent switchers and virtual environments help deliver over 20,000 channels to more than 900 million subscribers in 94 countries. From head-end satellite ingress to microanalytics in the home network, Bridge Technologies offers patented innovation and true end-to-end transparency. A privately held company headquartered in Oslo, Norway, Bridge Technologies has worldwide sales and marketing operations through a global business partner network.
Press Contact:
Fiorenza Mella
XPresso Communications
Tel: +31 71 523 82 10
Email: [email protected]