Bridge Technologies Wins Prestigious SCTE Award
July 9, 2019
VB330 Probe is voted Technological Innovation of the Year
Bridge Technologies has announced that its VB330 Probe with support for Remote PHY received two awards from SCTE (the Society of Cable Telecommunications Engineers) including the prestigious SCTE 2019 Technological Innovation of the Year award.
The VB330 RPHY also received the award for Best Broadband Network Transmission Solution.
The award was made at SCTE's Annual Gala Awards Dinner at Hatfield Old Palace in the UK on 29 June 2019 and was received by Gudny Aspaas, on behalf of Bridge Technologies Chairman Simen K. Frostad.
"This is a great honour for us," said Frostad. "Receiving an industry award is always a thrill – but even more so when the award is made by an organisation that is as respected as SCTE. SCTE was formed to raise the standard of broadband engineering in the telecommunications industry, and that's exactly what the VB330 was designed to do – to help network engineers do their job even better, allowing them to quickly identify problems and take timely action so that consumers receive the high quality service they expect."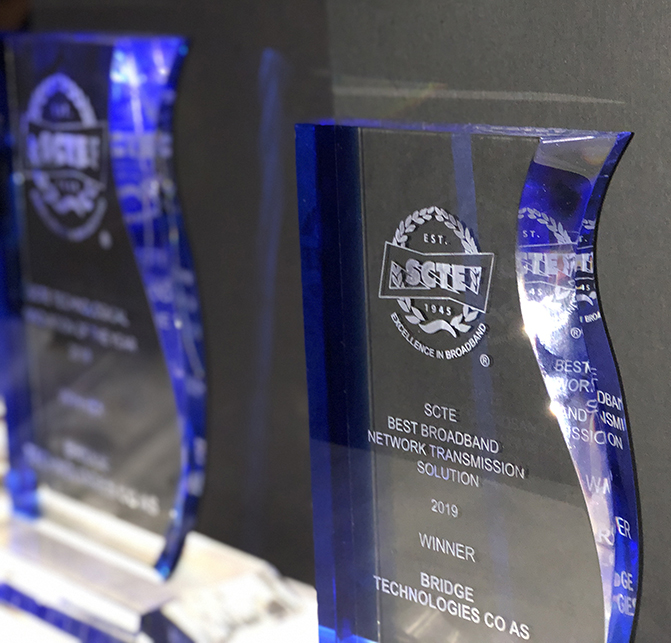 The Bridge Technologies VB330 Probe was developed for high-traffic monitoring in core broadband and media networks. Uniquely able to provide support for Remote PHY/L2TP, it is a powerful and flexible multi-use tool that responds to the appetite of subscribers for more and more bandwidth, delivering monitoring and analytics of thousands of streams and a multitude of technologies in real-time and in parallel, and providing intuitive feedback that enables appropriate corrective actions to be taken.
Remote PHY is an approach that literally takes the PHY chip out of a box and puts it at the end of an IP network – putting the least amount of hardware and software at the endpoint and keeping the complexity centralised. Remote PHY will allow CCAP devices to be deployed in more creative manners such as using digital fibre in the HFC plant. For cable operators, this will allow their network to have higher performance with lower OpEx, lower CapEx, and an evolutionary path for FTTH.
"This has been a fantastic year for our awards, with an impressive selection of entries showing the scope of innovation in the industry," said Chris Bailey, President, SCTE. "We would like to express our congratulations to all of the entrants, runners up and winners for their broad band technology advancements, which are sure to have a great impact on our industry."
More information about Bridge Technologies and its products is available at www.bridgetech.tv or by phone at +47 22 38 51 00.
About Bridge Technologies
Bridge Technologies creates advanced solutions for protecting service quality in the digital media and telecommunications industries. The company's award-winning monitoring/analysis systems, intelligent switchers and virtual environments help deliver over 20,000 channels to more than 900 million subscribers in 94 countries. From head-end satellite ingress to microanalytics in the home network, Bridge Technologies offers patented innovation and true end-to-end transparency. A privately held company headquartered in Oslo, Norway, Bridge Technologies has worldwide sales and marketing operations through a global business partner network.
Press Contact:
Fiorenza Mella
XPresso Communications
Tel: +31 71 523 82 10
Email: [email protected]