Bridge Technologies Wins Tech Leadership's 'Best Production Technology' Award
March 30, 2021
The win recognizes the contribution of the VB440's new Audio Metering functionality to IP-based production   
Bridge Technologies is proud to announce that it has been selected as winner of the Best Production Technology category in the 2021 Tech Leadership Awards, recognizing the outstanding contribution that its VB440 Audio Metering upgrades have made to the field of production.
The VB440 already represents an award-winning monitoring solution for IP production environments, delivering ultra-low latency analytics of uncompressed data to provide creatives and technicians alike with the deep insight they need to ensure error-free delivery of live and recorded broadcast, from any remote location across the globe.
Previously though, the focus of these analytics has been largely on the monitoring of video through intuitively readable packet flow analysis, vectorscopes, waveforms and multiviewers. With the addition of its new IP Audio Metering functions, Bridge Technologies have yet further extended the versatility and capability of the VB440 and the contribution it can make to both on and off-site production.
Designed in collaboration with professional audio engineers to ensure that each meter maintains appropriate ballistics, the enhancements include the ability to measure multichannel audio across 64 channels within one flow (with a service containing as many flows as desired). In addition, a microphase meter gives quick insight into the phase balance of each audio pair, but is further enhanced with the integration of a Gonio meter, which can reveal incompatibilities in multi-microphone sound fields. A LUFS meter has also been added, facilitating vital control over the dynamic range of an audio mix and ensuring that audiences experience a full range of sound.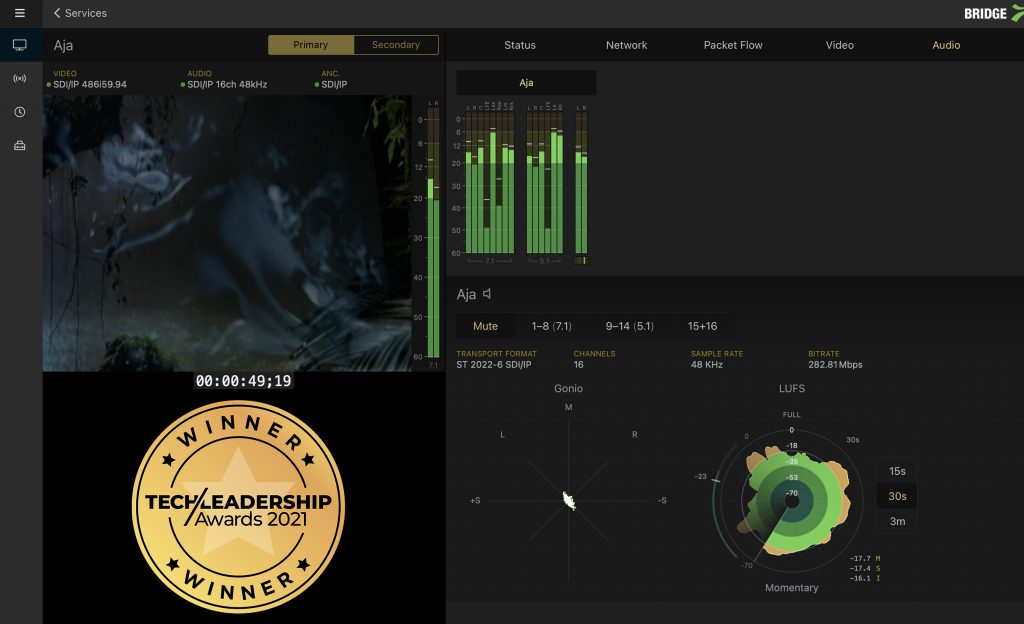 Importantly, these new audio metering capabilities can be applied to both 7.1 and 5.1 surround sound, with an ability to listen through a web browser in a stereo downmix – thereby allowing an audio editor to work anywhere, even in spaces that are not equipped with a five or seven speaker setup. The ability for engineers to validate advanced audio formats from anywhere in the world through an HTML-5-based interface represents a significant advantage in terms of specialist audio production. By leveraging the benefits of an IP production environment and facilitating browser-based access for multiple users, Bridge allows the idea of 'remote' production to become that of distributed production. This allows for audio engineers to work in real-time with a production from anywhere in the world; carrying clear benefits in relation to social distancing and a reduction of costs associated with crew and kit transport. More than this though, it grants the ability to position audio engineers outside of (often cramped) studios, ensuring that they can work in optimized conditions that are ideally suited to audio editing; in a dedicated area away from noise and distraction.
Commenting on the win, Chairman of Bridge Technologies Simen Frostad said: "Being recognized through awards such as this makes us incredibly proud, and gives us an immense sense of validation in the efforts we are making to drive forward the world of distributed IP production and broadcast. Coming from a sound engineering background myself, it made obvious sense to bring the Bridge philosophy of making data visually intuitive and usable to the field of audio.This audio metering addition cements the importance of the VB440 as an indispensable tool for creatives in almost any production environment".
About Bridge Technologies
Bridge Technologies creates advanced solutions for protecting service quality in the digital media and telecommunications industries. The company's award-winning monitoring/analysis systems, intelligent switchers and virtual environments help deliver over 20,000 channels to more than 900 million subscribers in 94 countries. From head-end satellite ingress to microanalytics in the home network, Bridge Technologies offers patented innovation and true end-to-end transparency. A privately held company headquartered in Oslo, Norway, Bridge Technologies has worldwide sales and marketing operations through a global business partner network.
Learn more – www.bridgetech.tv
Press Contact:
Fiorenza Mella
XPresso Communications
Tel: +31 71 523 82 10
Email: [email protected]