BroadcastAsia 2016: Bridge Technologies Expands and Raises the Standard for Digital Video and Media Monitoring
May 19, 2016
Bridge Technologies will be represented by Magna Systems & Engineering in booth 5C2-01.
"At BroadcastAsia 2016, we are showing our VB288 Objective QoE Content Extractor to view and monitor OTT services and real-time streams together with a few more monitoring solutions that exceed conventional levels of performance, and break new ground for adaptability, customization, and ease of use." – Simen K. Frostad, Chairman, Bridge Technologies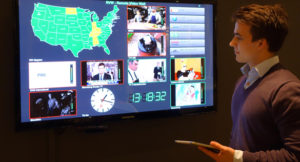 VB288 Objective QoE Content Extractor – Now with Integrated OTT
The multiple award-winning VB288 delivers visual content verification with Objective QoE, graphical status displays and alerts to a remote videowall display that can be viewed through any web browser. The new version of the VB288 integrates OTT services alongside conventional linear streams, in an easy-to-read visual style. Running on a standard high-specification server, the VB288 can power displays of large numbers of MPEG-2, h.264/MPEG-4 and h.265/HEVC channels in multiple browser windows. Operators can mix and match between TS streams and OTT services. With an easy 'embedded feel' setup and operation experience, and accessible from any location, the VB288 provides a highly effective validation tool that is easily adaptable to any monitoring strategy, and readily usable by busy engineers remotely.
Gold TS Protection – Heightened Protection for Digital Media Services
Gold TS Protection is a new technology that makes monitoring for digital services much quicker to set up and fault-tracking much faster, more accurate and secure. Developed exclusively by Bridge Technologies, Gold TS Protection includes all the checks specified in the ETR290 standard, but goes much further to include testing for critical conditions missed by ETR290. Conditions like failures of the conditional access system, errors in the program guide, and unintended language changes seriously affect subscribers, but standard monitoring systems based only on ETR290 do not raise any alerts for these conditions. Services protected by Gold TS catch these 'ETR290-legal' errors and provide a much more valuable real-world quality assurance for operators of digital media services.
VB256 ISDB-T Input Module – More Global Coverage
With the VB256 ISDB-T RF input module, Bridge Technologies expands its digital terrestrial monitoring capabilities to include the Japanese and Latin American markets. Supporting both ISDB-T and SBTVD-T standards, it enables customers operating in these regions to monitor their digital terrestrial transmissions. A dual-input DVB-T/T2 input interface module, the VB256 tracks multiple RF parameters, supporting 6, 7 and 8 MHz channels. The card's ETR 290 engine subjects demodulated Transport Streams to full-priority 1, 2 and 3 analysis. Two modules may be housed within a 1RU chassis together with a controlling VB120 or FB220 probe, providing high monitoring capacity within a minimum of rack space. Each VB256 has two independent inputs, which allows two channels to be monitored continuously. Assigning multiple channels to a VB256 allows the tuner to cycle up to 50 channels, increasing the solution's overall density.
 Other New Products and Services
Among the additional products that Bridge Technologies will be discussing is the Remote Data Wall (RDW), which provides a more powerful way to create a customized 'flight deck' of data instruments through an easy-to-use widget toolkit. The RDW, which won NewBay Media's Best of Show Award at NAB 2016 for its technology, is a versatile and adaptable tool for creating a customised monitoring display in the control centre that can be accessed from any securely connected location.
Bridge Technologies will also be talking to visitors about Timeline, a new technology for exploring monitoring data in a NLE-style interface, giving users a completely new level of understanding of faults and outages, and providing a powerful way of verifying SLAs and validating regulatory obligations.
The company will also reveal a new services initiative at BroadcastAsia 2016. This model provides customers with automated off-site data backup, system-wide automated software updates, remote hands-on technical support, and a planning and provisioning consultancy package. In addition, Bridge Technologies will be discussing new virtualised probes that allow users to pick and mix the most effective combination of software and hardware monitoring nodes.
About Bridge Technologies
Bridge Technologies creates advanced solutions for protecting service quality in the digital media and telecommunications industries. The company's award-winning monitoring/analysis systems, intelligent switchers and virtual environments help deliver over 20,000 channels to more than 900 million subscribers in 94 countries. From head-end satellite ingress to microanalytics in the home network, Bridge Technologies offers patented innovation and true end-to-end transparency. A privately held company headquartered in Oslo, Norway, Bridge Technologies has worldwide sales and marketing operations through a global business partner network.
Press Contact:
Fiorenza Mella
XPresso Communications
Tel: +31 71 523 82 10
Email: [email protected]