Enhanced microVB to eliminate expensive truck rolls
November 6, 2017
Delivers more cost-effective customer support for network operators, shortens time-to-solution
Demonstrating once again the breadth and depth of its understanding of the challenges faced by network operators, Bridge Technologies today announced a wide-ranging set of enhancements for its microVB consumer premises network probe that will substantially broaden its scope of application.
In an environment where the consumer home network is becoming increasingly sophisticated and complex with the addition of a broad range of devices, responding to and fixing faults reported by customers is becoming progressively more problematic for operators that can often only be solved via an expensive truck roll.
The tiny microVB provides a uniquely cost-effective alternative. Easily installed by the consumer, it provides 24/7 deep packet inspection and end-to-end visibility in broadcast quality media delivery over any IP-based infrastructure including OTT media in unmanaged networks. The results of the microVB's analysis can be reviewed remotely by the network engineer and appropriate corrective action taken, resulting in improved customer satisfaction at significantly lower cost.
"The microVB is a fraction of the enormous cost of sending a truck to the customer's premises – and, even better, its 24/7 operation means that it can detect faults that might not present themselves during an engineer's brief visit and that might necessitate a repeat visit," said Simen K. Frostad, Chairman, Bridge Technologies. "It's only one of the many solutions we offer in response to the challenges – and opportunities – facing operators as they transition to the IP environment."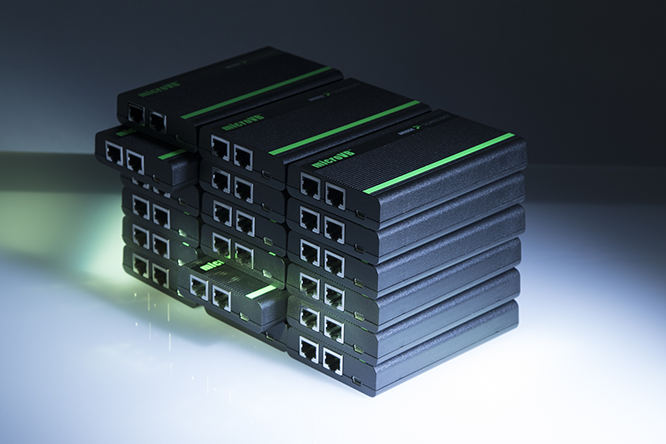 The enhancements to the microVB, which now allow it to support clusters of consumers rather than just individual customers, include:
Device can rapidly scan known channels automatically.
Two types of reports are now available: one for devices and one for streams.
A new "map" tab shows all devices and their status. Device information also has a small map-tile that shows the location of the device.
The microVB now monitors up to eight concurrent streams (up from four).
OTT: samples are merged to one stream per server.
DHCP: the microVB can identify itself to the DHCP server so it can receive special configuration.
Traffic: packets are now captured at the device and sent back to the microVB Device Controller for inspection.
Devices can actively join multicasts.
About Bridge Technologies
Bridge Technologies creates advanced solutions for protecting service quality in the digital media and telecommunications industries. The company's award-winning monitoring/analysis systems, intelligent switchers and virtual environments help deliver over 20,000 channels to more than 900 million subscribers in 94 countries. From head-end satellite ingress to microanalytics in the home network, Bridge Technologies offers patented innovation and true end-to-end transparency. A privately held company headquartered in Oslo, Norway, Bridge Technologies has worldwide sales and marketing operations through a global business partner network.
Press Contact:
Fiorenza Mella
XPresso Communications
Tel: +31 71 523 82 10
Email: [email protected]