How we deliver monitoring and analysis of thousands of streams
June 27, 2023
Website design has evolved a long way. Technology and design have mutually informed each other, bringing with them not just possibilities (who remembers the clunky JavaScript animations of the 90s?), but also driving what we require from our design. In particular, the rise of phone browsing means that where menu-driven websites were once popular, and scrolling pages were seen as the antithesis of good design, now a single continuous page is seen as de rigueur.
Elegant though single scroll pages are, they do present their own particular design complexities.
This is relevant to us this month, because we've finally fulfilled a job that has been on the to-do list for a long time; creating a website that attempts to do justice to our VB330. We were prompted into action by the many awards that the probe has been picking up over the course of the last 12 months, particularly at the latest NABShow. It made us realise that we needed to streamline the growing body of information now available in relation to the VB330; clearly outlining its extensive abilities and providing deep insight and easy-to-follow demos for people across the industry.
And this is what we came up with:
It wasn't easy though. We had challenges defining a product that was not just unique but incredibly diverse in what it does.
When it comes to the VB330, a large part of our headache stems from the need to make a scrolling site. See, the problem with vertical scrolling is that it implies a hierarchy; one assumes that the information at the top is the central and most important 'point', and that things which follow are smaller or less hierarchically important details.
Well, in that case, what should we lead with when describing our VB330? Of all the various tasks it performs, what might we say is its 'central' purpose… Its headlining feature?
We might stress its capacity – with the ability to monitor up to 2000 IP multi-casts, QoE Content and TR 101 290 analysis on 1000 streams and 1000 streams of OTT traffic.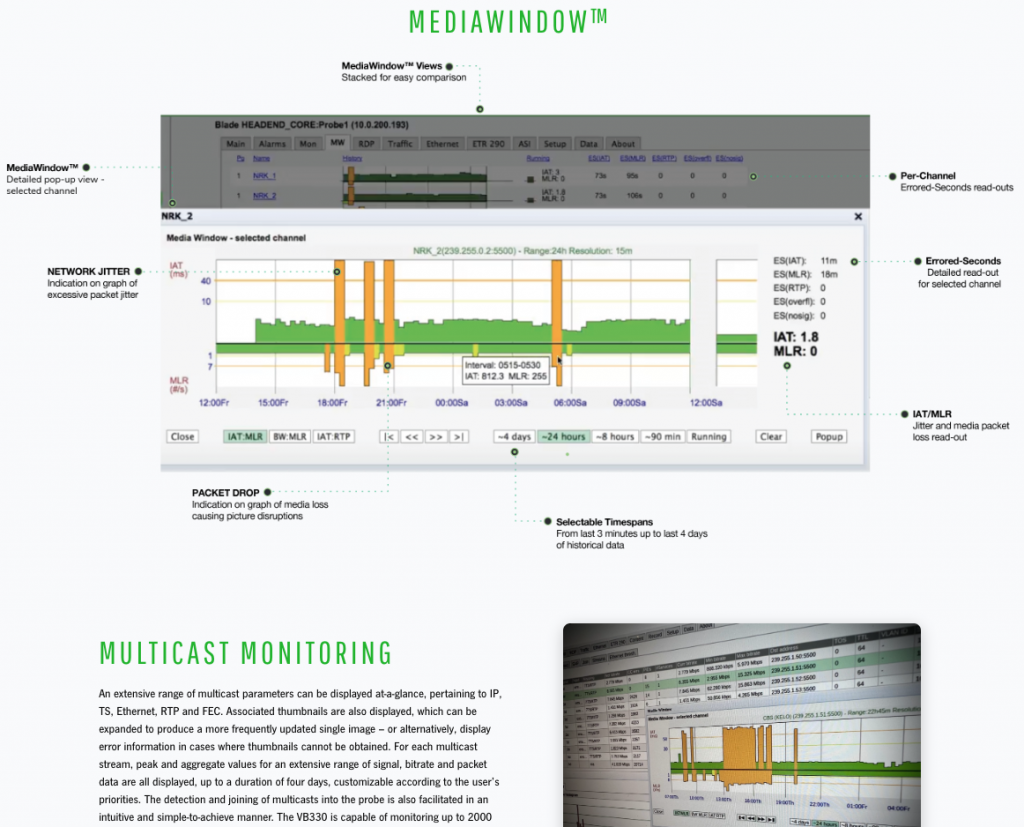 But that really only gives you an idea of the depth of its ability, not its breadth. Or perhaps we'd want to lead with a list of the functions and technologies embedded within it? Well, that presents a challenge too, since it includes more than 40 individual elements across the fields of QoE measurement, QoS measurement, ad insertion examination, content analysis, recording and alarming, alongside a comprehensive range of network, data and packet analytics….
Indeed, as we explore those broad categories of functionality on the website, we have to break them down even further: so you'll also find sections relating to OTT/ABR QoS transport and manifests, freeze frame and signal loss, audio level, MOS score, ETSI TR 101 290 with Gold TS reference, SCTE35/104, IP jitter, IP multicast, video OTT/ABR streaming, video-on-demand unicast, Ethernet trunk micro bursts, PCAP recording, L2TP unpacking and monitoring and general traffic protocol inspection, OTT profile alignment, SRT and closed caption verifications… to list but a few. And of course we'll need to find space on the website to stress also the full-range of signal formats found in any media operation, including HDS, HLS, MSS, MPEG-DASH, MPEG TS, as well as all common compression standards – including JPEG XS.
As you can see from all this, the list of the VB330's capabilities goes on and on, and defies singular characterisation or product pigeonholing: no single feature could be called its 'core purpose' or 'leading attribute' – they all come together to build a probe that is far more than the sum of its parts. Which makes it quite difficult to design a website where each element is set out individually. After all, we don't want visitors to have to scroll to the moon and back, but equally, we don't want them to miss what they're looking for just because it was lower down the scrolling list.
Which means to say, if you head on over to our new VB330 website – make sure you keep scrolling. All the way to the bottom. Because every feature we've packed onto our VB330 contributes equally to what makes it so unique on the market; a comprehensive suite of monitoring and analytics tools, designed to not just ensure smooth network performance, but to leverage the highest levels of commercial and technological value from your existing or planned broadcast infrastructure.
And to end, keep checking back in regularly to the site as we´re not finished adding features and technologies just yet….