IBC2022: Straight back into the swing of things
September 30, 2022
What did we get up to at IBC? What didn't we get up to is perhaps the better question. 
The Booth 
They say you shouldn't work with animals and children. But what do they say about carting your own studio across the North Sea to Amsterdam, and then trying to deliver a live show as hoards of marauding IBC attendees accidentally stumble into shot behind you? No, no pithy sayings on that one. 
Which is probably why we were so enthusiastic about trying it. After all, we've never been lacking in ambition. 
Yes, we were back at IBC, and on a whole different level. NAB certainly got us back into the swing of tradeshows and people, but we consider IBC to be 'home turf' and so it was particularly special to be back. And we wanted to do it right. 
The booth was the first piece of the equation. With a prime location in the front corner of Hall One we became a show landmark; you know you've made it when you overhear people saying 'We'll meet by Bridge'. The striking nature of our green and grey getup always does well to stand out in a crowd, but our success was about more than just aesthetics. We were extremely proud to receive IBC's award for 'Best Stand Design', and in awarding us the judges were keen to express that it was about the welcome that they received when they visited; marked by friendliness, openness and humour (and of course, free-flowing coffee). Not to mention that they immediately knew we were a monitoring and analytics company. The design of the booth had in mind from the start an intention to create open zones where meetings and demonstrations could happen in conjunction with each other; giving enough space for intimate conversation but creating an energy of activity and excitement across the floor. In and amongst all this, the whole gang were meeting with countless journalists and reporters, delivering their charm and insight to various pens and cameras on an almost hourly basis.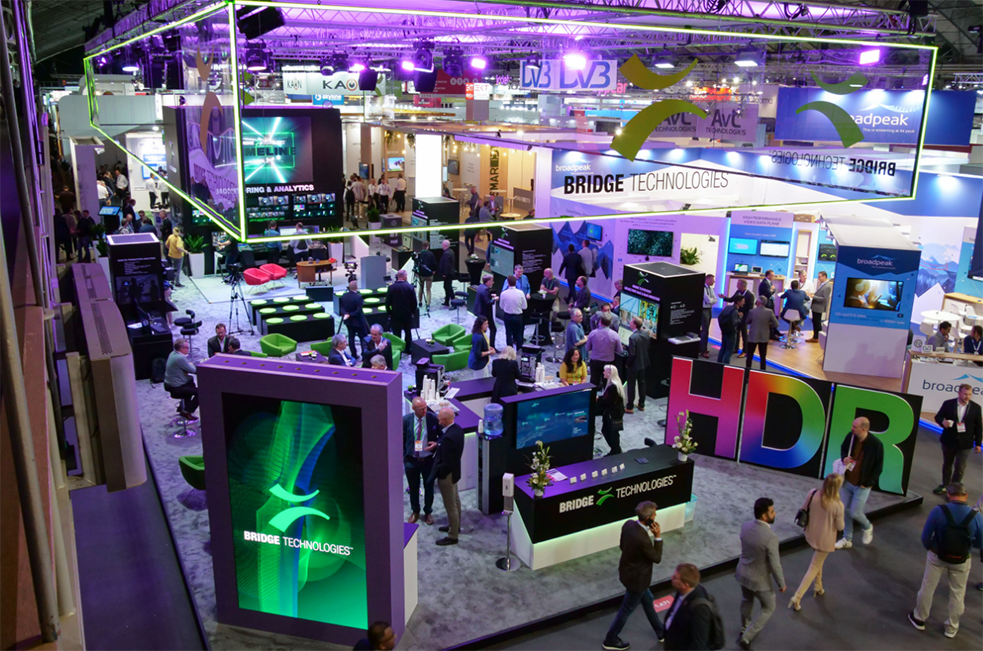 Then throughout the day we added to that building energy with a range of talks from Martin, Frank, Kai, Marcus and Jon: all four of whom share not just a brilliant knowledge of our technologies, but an ability to be able to present them to an audience clearly and compellingly. They ran booth visitors through some of the key additions we've made across our range of probes in the past year; SCTE104/35 monitoring to facilitate ad insertion, the 6.1 software release, signal generation, HDR functionality, Audio metering and SRT analysis. 
The show
And then, the finale we built to each evening. The energy became palpably more pronounced at around 4pm, with Deniz editing away ferociously in the corner, Damian striding around officiously, Gry mic-ing up Simen as he ran lines, and a growing audience looking on with interest. And on the dot of 5pm Simen's infamous welcoming line – 'Let the show begin' –  was broadcast from a fully remote studio setup right in the heart of IBC, all facilitated by the production-based VB440 IP probe, along with help from our friends Riedel, Imagine, Densitron and NetOn.Live to name a few. We had a fantastic and really quite prestigious line-up of guests join us, ensuring that the Bridge Show remains not just a useful practical exercise in IP-based production, but actually a quite meaningful (and frequently amusing) way of staying abreast of industry developments. 
After that, it would be rude not to have an evening after-show party. The ambient lights on the booth went down, the music came up, and the beers and champagne came out. It was quite the place to be.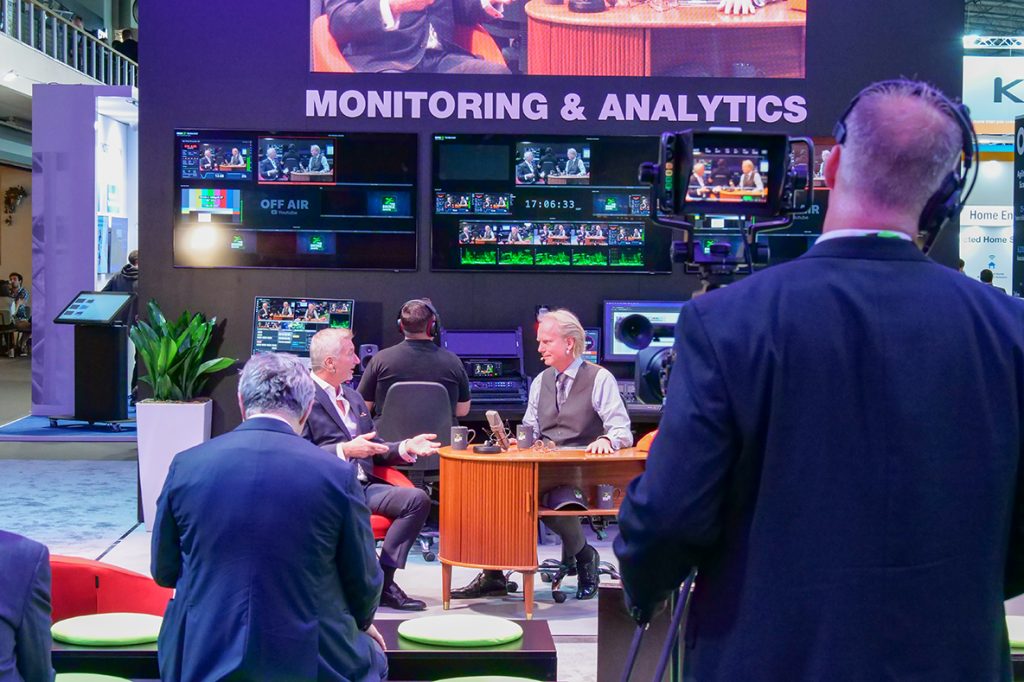 The Boats 
For those who like their evening entertainment a little bit more swanky, we also implemented two nights of boat tours around the canals of Amsterdam – now a traditional component of the Bridge IBC experience. There is much to be said for drifting lazily down the quieter back channels of the 'Dam as dusk sets in, drinking fine champagne and eating a delicate five-course meal as conversation ebbs and flows like the waters outside. 
The Boats eventually head – as if instinctually – to the terrace of the Apollo, where the cigars are cracked, the drinks continue to flow, and the wonderfully attentive staff become increasingly perplexed by the group of misfits talking business, politics, philosophy, sports and everything in between, and showing no signs of ever going to bed. 
The run 
Whilst we understand why reintroduction of the traditional IBC 4K run wasn't practical (after all, we are getting dangerously close to 8K becoming a new standard) we at Bridge are suckers for a medal. So we decided to implement our own event: the monitored morning mile (which wasn't actually a mile, but that's OK). We kept it internal so as not to step on anybody's toes – but given the way we run, toes inevitably suffered anyway… 
Whilst there had been much competitive 'banter' thrown about before the start of the race about who would be crowned the winner (especially amongst our Commonwealth competitors), when it came down to it, group spirit prevailed and we ran as a team (well, two teams). Gry provided musical motivation from the back of a bike, and we were all awarded medals and certificates before heading in for a well-deserved breakfast (or for one Australian, another quick sprint lap in order to ensure that the average speed metrics on his smart watch wasn't dented too badly. Ahem). 
The tech 
Of course all of the many, many exciting things we enjoy at IBC all really serve to underscore the technology that's at the heart of what we do and why we're here. In that way, IBC is a very different creature to what it was just five years ago: where previously our mission was 'evangelical' as to the merits of IP, there aren't many people who need converting now. We're so well established as authorities in the area that it's like we've become the church elders – and our booth is the place to which one must make their pilgrimage. OK, so that's perhaps a little bit of an overly grand statement – but really we are doing incredible things with IP in the field of both production and distribution, and all of this was readily on display, along with the 'meat and bones' terrestrial, satellite and cable monitoring applications which remain important to us and many of our clients.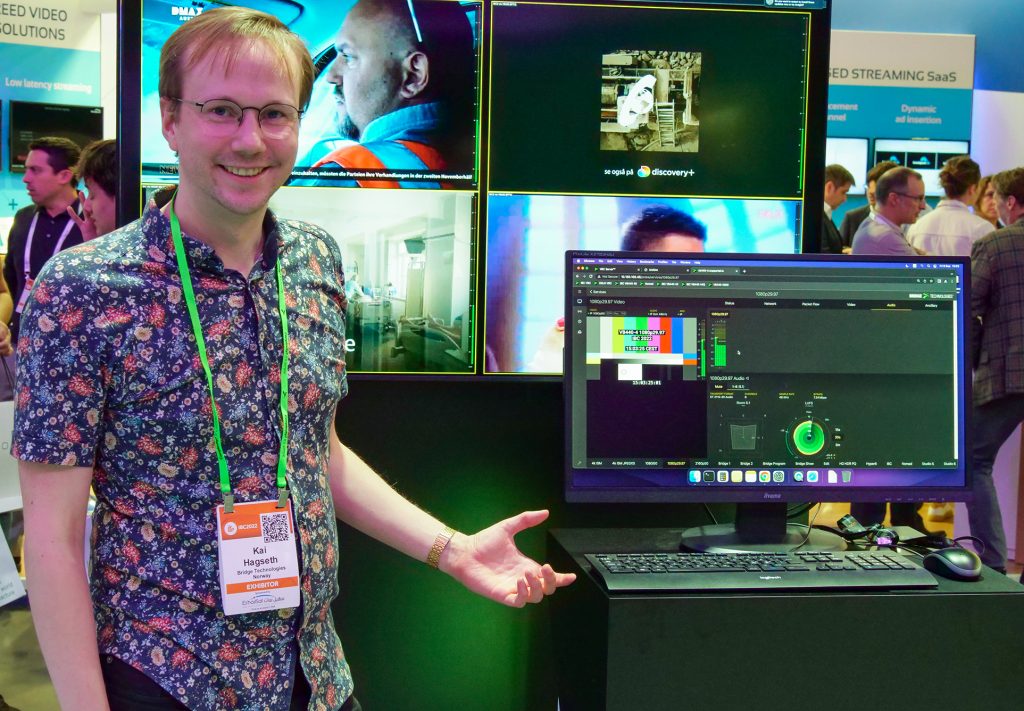 Our aforementioned talks in relation to SCTE104/35, the 6.1 software release, signal generation, HDR, Audio and SRT analysis were our key new developments.
The conclusion?
It's good to be back. And in many ways it was like we were never away. But the last two years have seen significant growth for Bridge in terms of size, market and reputation, and so in small, subtle and intangible ways, IBC was a different proposition this year. But one that we relished, and one that we look forward to repeating again– even though there will be a lot to live up to when we turn up to the RAI next year. And finally it was also very pleasing to see that the industry understands that Bridge Technologies is not just a monitoring and analytics company, but also a key contributor to the broadcast production community.