NAB Launch of Instrument View
April 5, 2018
Bridge Technologies to Launch Innovative Solution for Uncompressed Media at NAB
Instrument View will give broadcast production industry users confidence to wholeheartedly embrace IP
At NAB (booth SU4402), Bridge Technologies will take the opportunity to bring its extensive uncompressed real time media over IP experience and expertise to a new sector of the broadcast industry. Complementing its ability to deliver value to the distribution function, the company will highlight how its IP probes can now be deployed in the production process thanks to Instrument View. Having been previewed at IBC, Instrument View is receiving its official launch at NAB. Instrument View is uniquely available for the Bridge VB440 IP probe and can bring new levels of understanding, quality and productivity to the uncompressed media production process.
"As the broadcast world moves inexorably towards IP, the production function will find it needs a new set of expert tools," said Simen K. Frostad, Chairman, Bridge Technologies. "Without these tools, broadcasters will find that they do not have the 100% understanding and confidence necessary to fully embrace IP, and adoption will be slowed. Instrument View is such a tool, and is vital for obtaining that confidence. Because it provides a visual representation of what's going on in the production environment, it is intuitive and easy to use even for non-experts, delivering meaningful, actionable information in real time. The launch of Instrument View anticipates the absolute inevitability of an all-IP world in the very near future."
As well as analyzing packet behavior on the network, Instrument View is also capable of enhancing the production process – such as at live events – by allowing the production team to actually see uncompressed media content in real time and to ensure it meets the highest standards in video and audio. In a mixed HDR/non-HDR environment, for example, it can be used to assure optimum colorimetry. Audio – synched to video – can be both 'seen' and heard to assure perfect sound quality.
Browser-based and also touch screen-capable, Instrument View is simple, intuitive and responsive, and able to fluently adapt to a range of use cases. It delivers a level of speed and accuracy that enables Instrument View to deliver remarkable insights into the output of the production process.
Recognizing the broad range of environments in which Instrument View will be deployed, Bridge Technologies is also showcasing three innovative implementations of the interface that are appropriate for rack-mount, desk mount or table-top mount. Not only are these characterized by outstanding aesthetic design, but also by their implementation of PoE (Power over Ethernet) which means that they minimize cable clutter. IP makes them easier to deploy in, for example, locations that are remote from the production center. From video engineers working in a studio to OB vans at a sporting event, the rack mount, table top and arm mount provides the flexibility to have these quality assurance tools close by in any environment or event setup.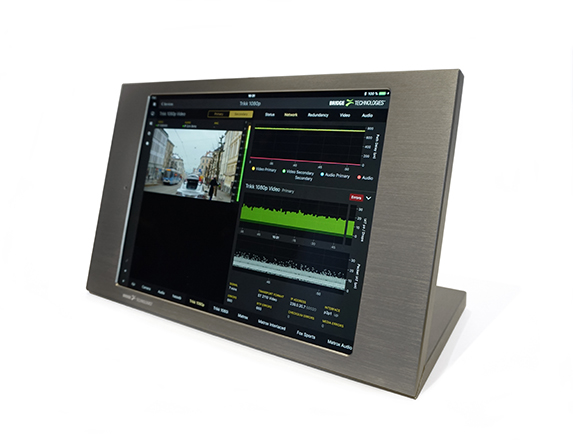 Instrument-View-Bridge-Technologies
Browser-based and also touch screen-capable
Instrument View provides an invaluable visualization option for the high performance VB440 IP probe. Capable of handling bandwidths of up to 40Gb/channel on each of its two interfaces, the VB440 can be configured in Ethernet networks running at speeds of 10Gb, 25Gb, 40Gb and 100Gb. Its support of dual channels enables both primary and secondary networks to be monitored in a dual redundant infrastructure, and enables users to quickly identify and rectify problems and maximize Quality of Service (QoS).
As it has done previously at both NAB and IBC, Bridge Technologies will also participate in the AIMS NAB 2018 IP Showcase (booth C12634).
"Throughout our 14-year history as a company, we have been fervent proponents of the benefits IP technology can bring to broadcasters, and our understanding of IP packet behaviors is unparalleled in the industry," continued Frostad. "It is no overstatement to claim that our solutions uniquely enable the interoperability that is fundamental to our collective future, and we look forward to once again demonstrating the truth of that assertion."
Also on show on the Bridge Technologies' NAB stand is NOMAD. Weighing around two pounds and measuring just 9" x 7" x 1", it is a highly portable, rugged, self-contained tool for on-the-go media professionals who need to be able to troubleshoot hybrid IP multicast, OTT and RF networks. It is the ultimate all-in-one monitoring and analysis solution for the technician on the move.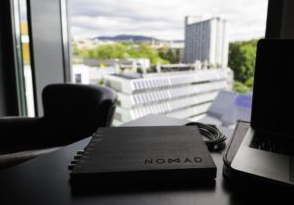 NOMAD-by-Bridge-Technologies
Highly portable, rugged, self-contained tool for on-the-go media professionals
More information about Bridge Technologies and its products is available at www.bridgetech.tv
About Bridge Technologies
Bridge Technologies creates advanced solutions for protecting service quality in the digital media and telecommunications industries. The company's award-winning monitoring/analysis systems, intelligent switchers and virtual environments help deliver over 20,000 channels to more than 900 million subscribers in 94 countries. From head-end satellite ingress to microanalytics in the home network, Bridge Technologies offers patented innovation and true end-to-end transparency. A privately held company headquartered in Oslo, Norway, Bridge Technologies has worldwide sales and marketing operations through a global business partner network.
Press Contact:
Fiorenza Mella
XPresso Communications
Tel: +31 71 523 82 10
Email: [email protected]