Remote Data Wall Receives IBC 2016 Innovation Award from Broadcast Beat
August 30, 2016
Bridge Technologies' Remote Data Wall (RDW) has been chosen by Broadcast Beat magazine as the winner of the "Innovation in Content Delivery" award at IBC 2016.
Remote Data Wall enables users with no special skills to create displays, extending over multiple screens in a videowall format, that deliver graphical representations of a broad range of data, significantly easing the monitoring, analysis and troubleshooting of media networks. It can be viewed from any location either in its entirety or in part as specified by the user.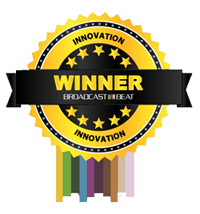 "Remote Data Wall responds to two key trends that we see in the broadcast industry today," said Simen Frostad, Chairman, Bridge Technologies.
"The first is that, as media network owners transition to IP, those responsible for day-to-day management of the network are under a great deal of pressure, and may also not yet have the in-depth skills required: RDW provides them with a simple, intuitive way to quickly understand what's going on.
The second is the increasing mobility of those responsible for network management, and RDW provides the ability to be viewed from anywhere, at any time. We're delighted that Broadcast Beat has recognised its ground-breaking attributes."
Remote Data Wall technology is designed to enable users to simply specify which, from the rich data available from the Bridge Technologies digital media monitoring system, is most significant for their specific requirements and to display it.
Sources of data can be from any point within the monitoring infrastructure, and from any level, allowing the side-by-side display of high-level overview information, and very specific displays of detailed analytical data from deep within individual probes.
Data can also be gathered from outside sources such as third-party systems, weather stations, personnel management systems, booking schedules and so on. A widget can display, for example, windows from the Dataminer management system, mirroring the layout and appearance of the window to maintain a familiar look.
HTML5/browser-based, Remote Data Wall can run on any hardware, and is simple to set up, with no expertise in configuring or cabling videowalls required.
RDW had previously received NewBay Media's Best of Show Award, presented at NAB 2016 by TV Technology.
About Bridge Technologies
Bridge Technologies creates advanced solutions for protecting service quality in the digital media and telecommunications industries. The company's award-winning monitoring/analysis systems, intelligent switchers and virtual environments help deliver over 20,000 channels to more than 900 million subscribers in 94 countries. From head-end satellite ingress to microanalytics in the home network, Bridge Technologies offers patented innovation and true end-to-end transparency. A privately held company headquartered in Oslo, Norway, Bridge Technologies has worldwide sales and marketing operations through a global business partner network.
Press Contact:
Fiorenza Mella
XPresso Communications
Tel: +31 71 523 82 10
Email: [email protected]