SanAm Technology Will Show Bridge Technologies' Monitoring Solutions at KOBA 2016
May 15, 2016
At KOBA 2016, Bridge Technologies will be represented by SanAm Technology in booth D207.
Visitors will be introduced to several groundbreaking new technologies and products that move digital media monitoring into a new era of power and sophistication.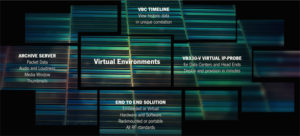 "Amidst all the changes in digital media, the need for high service quality remains a constant," said Simen K. Frostad, Chairman, Bridge Technologies. "Hitting that target while staying on top of the complexity calls for powerful new approaches to monitoring that simplify the task for the user. At KOBA 2016, with our partners at SanAm Technology, who have served the dynamic Korean broadcast market for more than 20 years, we'll be talking about the most advanced set of monitoring power tools available to drive success in the digital media business."
Among the products that Bridge will be discussing is the Remote Data Wall (RDW), which provides a powerful way to create a customized 'flight deck' of data instruments through an easy-to-use widget toolkit. The RDW, which won NewBay Media's Best of Show Award at NAB 2016, is a versatile and adaptable tool for creating a customised monitoring display in the control centre that can be accessed from any securely connected location.
Bridge Technologies will also be talking to visitors about Timeline, a new technology for exploring monitoring data in a live NLE-style interface, giving users a completely new level of understanding historical faults and outages, and providing a powerful way of verifying SLAs and validating regulatory obligations.
In addition, Bridge Technologies will be discussing new virtualised probes that allow users to pick and mix the most effective combination of software and hardware monitoring nodes and the latest iteration of the award-winning Gold TS Protection technology, which makes monitoring for digital services much quicker to set up, and fault-tracking much faster, more accurate and more secure.
About Bridge Technologies
Bridge Technologies creates advanced solutions for protecting service quality in the digital media and telecommunications industries. The company's award-winning monitoring/analysis systems, intelligent switchers and virtual environments help deliver over 20,000 channels to more than 900 million subscribers in 94 countries. From head-end satellite ingress to microanalytics in the home network, Bridge Technologies offers patented innovation and true end-to-end transparency. A privately held company headquartered in Oslo, Norway, Bridge Technologies has worldwide sales and marketing operations through a global business partner network.
Press Contact:
Fiorenza Mella
XPresso Communications
Tel: +31 71 523 82 10
Email: [email protected]