SatNews: Year in Review 2019
December 9, 2019
Every year, the broadcast industry descends en masse on the RAI Convention Centre in Amsterdam. Once again, IBC provided invaluable insight into what's going on — and where we're going.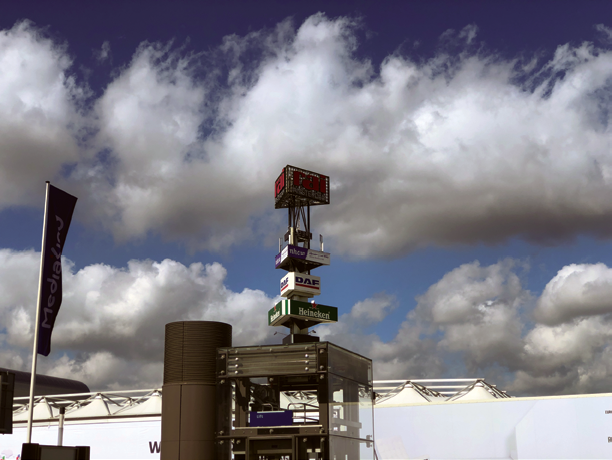 One of the great things about the timing of IBC — in September — is the opportunity it provides to get a snapshot of the state of the industry towards the end of any given year —as well as a look forward to what we might see in the coming year and beyond.
IBC this year was particularly interesting, not least because several discussions with the foremost satellite companies revealed an interesting shift in how they see themselves. That shift was very much reflective — inevitably so — of the wider shift in the broadcast industry.
There was much discussion of "the customer journey" — the different points on the path towards wholly embracing IP that each organization is on, and the need for vendors to acknowledge that and provide situationally-appropriate solutions. Some organizations, for example, are still wedded to the on-premise paradigm while others have wholly embraced the cloud.
Wherever those organizations are, however, it was certainly clear that the age of monolithic data centers is long gone. IBC saw much talk, and not for the first time, of distributed intelligence and edge computing. That's inevitable: media distribution has become all but mission critical and, as such, potential points of failure.
Hybrid
If "customer journey" was something you heard repeatedly in Amsterdam, another frequently used word was "hybrid". Everyone, it seemed, was talking about hybrid solutions. And: that was certainly true of those satellite companies.
According to a senior manager at one of these firms, his company is building an ecosystem exactly in line with the challenges he sees his customers experiencing. They were, he said, looking for a converged approach to the problem of using the appropriate connectivity technology for many disparate requirements: no single connectivity technology could be the best for every environment.
As such, his company — in common, it must be said, with others — was in the process of reinventing itself: satellite would still be at its heart, but that would be only one of the connectivity solutions it would be able to offer. As with so many other exhibitors, satellite operators are looking to become full service providers, providing complete end-to-end solutions.
______________________________________
In theory, 5G also represents a
challenge to satellite companies,
although the consensus at IBC 2019
was that such was not the case.
It would have been easy, based on these conversations, to conclude that satellite, as a way of getting content from point A to point B, was diminishing in importance.
Nothing, of course, could be further from the truth: in many environments and for many applications, satellite remains the only show in town. Increasingly, however, it has become part of a communications ecosystem and satellite companies are seeing how they can be uniquely placed to play successfully in that world.
While IP is inexorably changing the broadcast world — for the better — satellite companies continue to face their own unique challenges. At IBC, we saw significant interest in our VB273 Intelligent Redundancy Switch.
Originally developed in response to a major operator's request for a redundancy switching solution, it provides full dual path redundancy for satellite signals with autonomous operation and deep signal analysis on both signal paths for the ultimate in switching decision making. The solution is ideal for providing fast and robust redundancy switching for permanently installed satellite up-links or in outside broadcast systems.
Intelligence at the Edge
One of the characteristics of the VB273 for satellite companies is how — in line with what's happening throughout the industry — it moves intelligence to the network edge, distributing decision-making way beyond the confines of the data center.
In automatic mode, the VB273 system is fully independent and makes its own switching decisions based on the pre-set switching rules. In manual mode, the unit can be controlled from any overlying NMS system via the extensive XML-based Eii (External Integration Interface) or via SNMP triggers.
Previously, it was the case that simple, relatively crude ETR alarm analyzers and black box switching solutions were deployed, but these were a much less than perfect response to broadcasters' requirements: they were inflexible, and could even themselves cause problems and increase costs by generating 'false positives' or missing complex error conditions.
The Bridge VB273 system's analysis capabilities and decision engine make it more comprehensive and accurate, giving greater security as well as delivering the cost reductions that can be achieved through running a more intelligent solution that can be trusted to operate with a greater degree of autonomy.
By incorporating a full implementation of Bridge Technologies' advanced ETR290 analysis engine, the VB273 can use a greater range of criteria, and base decisions on a more nuanced and realistic assessment of the data. Error conditions are evaluated against a set of user-defined rules to determine the appropriate automated action in any operational scenario.
The ETR290 engine is an ETSI TR 101 290 alarm monitor and advanced analysis functionality feature for the series of devices. A device can be configured with up to eight individual ETR290 engines running in parallel on the Ethernet interface providing highly scalable monitoring and analysis.
Even More Sophisticated
Bridge Technologies has also developed Gold TS to provide capabilities that are even more sophisticated than those featured in the ETR290 engine.
Conditions such as failures of the conditional access system, errors in the program guide, and unintended language changes seriously affect subscribers — but standard monitoring systems based only on ETR290 do not raise an alert for these conditions.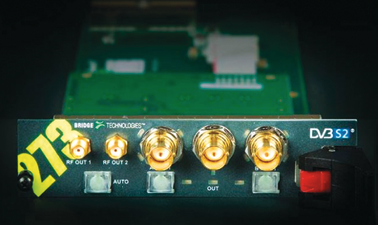 Services protected by Gold TS catch these 'ETR290-legal' errors and provide a much more valuable real-world quality assurance for operators of digital media services.
The VB273 also features a unique superlocal mode feature to deliberately cut off overlying NMS control for emergency manual override situations via the front button panel. All parameters can be controlled via the built-in web GUI. The web GUI also gives a visual overview of parameters used in switch decisions and system status.
Multiple layers of redundancy are also a feature of the VB273. The 1RU chassis offers dual redundant power supplies and the VB273 switching card has magnetically latching relays to protect against signal disruption, even during a complete loss of power.
In use, the VB273 Intelligent Satellite Redundancy Switch integrates readily into the Bridge Technologies monitoring ecosystem, providing exceptional advanced data analysis functions through rich graphical displays, with full reporting capabilities to external network management systems.
The data from the system is made available for remote monitoring by the built-in web server so that engineers and maintenance staff can be kept aware of operating status and can interrogate the system from any location.
Challenges
The VB273, then, is designed to address an important challenge for satellite operators — but, at IBC 2019, it became clear that it's not the only challenge that they're addressing and successfully overcoming.
Returning to the 'hybrid' theme, one particularly compelling live demonstration saw a new technology being demonstrated that synchronizes OTT and satellite broadcasts to provide a consistent experience for viewers — potentially eliminating a source of consumer frustration in which, for example, an OTT viewer hears a shout of "Goal!" from those in the apartment above him before the goal has actually appeared on his screen.
In theory, 5G also represents a challenge to satellite companies, although the consensus at IBC 2019 was that such was not the case: 5G will simply represent a complementary delivery mechanism to all the others, and will just form part of the connectivity mix.
IBC 2019 was, then, all about an industry in transition — and that applied equally to satellite operators. When will that transition end, such that we'll reach a final state – the promised land?
The answer, of course, is: not any time soon. The rate of change in media creation, distribution and consumption is accelerating rather than slowing down — uniquely enabled by IP — and IBC 2020 promises to be no less fascinating in terms of the opportunity, once again, to gauge where we are and where we're going.