Showcasing Video Service Monitoring and Analytics Solutions at Broadcast Asia
June 2, 2019
Enabling broadcasters and content distributors to ensure operational efficiency and Quality of Experience
OSLO, Norway – 2 June, 2019
At Broadcast Asia (18 Jun 2019 – Thu, 20 Jun 2019: Suntec Singapore Convention & Exhibition Centre, Singapore) Bridge Technologies, in partnership with regional business partner Techtel (Booth 4K3-05), will showcase its broad range of broadcast and broadband quality monitoring and analysis solutions, as well as the company's new VB440 appliance for ST2110 production applications.
Centre stage on the Techtel booth will be the award-winning VB330 IP Probe with its unique support for Remote PHY/L2TP. The VB330 is deployed either on dedicated embedded hardware, as a pre-configured and pre-installed appliance or as a software-only solution. The VB330 provides high-traffic monitoring in core broadband and media networks and offers telcos, digital media organizations, cable and network operators a monitoring solution scalable for any level of traffic – thousands of streams and a multitude of technologies in real-time and in parallel. Measurement analytics are available via easy drill-down functionality, with MediaWindow providing easy-to-assess graphical visualisations of the data.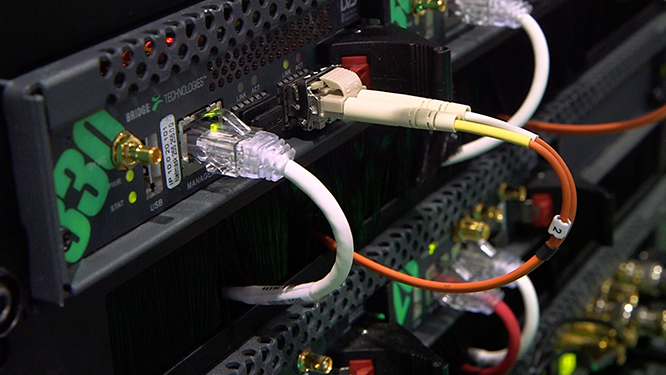 "Subscribers need more bandwidth – not only because they're consuming more video online but also because, with the advent of 4K and HDR, video is becoming even more challenging to transmit," said James Chance, Regional Manager, APAC at Bridge Technologies. "L2TP is now extensively used in VPNs worldwide, and the VB330 is the ideal probe for cable operators looking to maximise the quality of experience they offer to their customers."
Also on show will be the VB440 IP Probe. The recipient of two honours at NAB 2019 – not only the TV Technology Best of Show Award, but also the NAB Show 2019 Product of the Year Award – the VB440 is designed for those charged with managing network-based media distribution.
With both ST2110 and ST2022-6 transports, the VB440 provides network operators, digital media organisations, production studios, master control centres and outside broadcast vehicles and venues with an analytics solution for numerous streams and multiple technologies in real-time and in parallel. It enables production teams to continuously survey all layers of media transportation on an IP network and facilitates quick rectification of potential problems; both packet loss and jitter can be identified, for example, helping to maximise Quality of Service (QoS).
"Not only does the VB440 enable the quality of audio and video to be monitored and assessed: it can be located anywhere on the network (or, in fact, multiple VB440s can be deployed throughout the network) – and, in conjunction with its intuitive Instrument View GUI, it can deliver information to anyone, wherever they are," said  Simen K. Frostad, Chairman, Bridge Technologies. "It provides instantaneous feedback on network performance, detecting errors and allowing them to be addressed and rectified instantly before the consumer's experience is negatively impacted."
Techtel and Bridge Technologies will also be showcasing the VB288 Content Extractor; providing operators with objective video and audio measurements of MPEG-2, H.264/MPEG-4 and H.265/HEVC streams and enabling a unique web browser-based remote video-wall capability, . The VB288'continuously inspects up to 100 video services providing dependable alarming on QoE impacting parameters .
More information about Bridge Technologies and its products is available at www.bridgetech.tv or by phone at +47 22 38 51 00.
About Bridge Technologies
Bridge Technologies creates advanced solutions for protecting service quality in the digital media and telecommunications industries. The company's award-winning monitoring/analysis systems, intelligent switchers and virtual environments help deliver over 20,000 channels to more than 900 million subscribers in 94 countries. From head-end satellite ingress to microanalytics in the home network, Bridge Technologies offers patented innovation and true end-to-end transparency. A privately held company headquartered in Oslo, Norway, Bridge Technologies has worldwide sales and marketing operations through a global business partner network.
Press Contact:
Fiorenza Mella
XPresso Communications
Tel: +31 71 523 82 10
Email: [email protected]