Ziggo Case Study
June 16, 2021
Challenge
To minimize network downtime and maintain reputation by providing a high-level, cost-effective monitoring solution that could identify 'in-the-moment' and 'over time' network performance issues.
Solution
Implementation of VB120 monitoring probes across 40 sites within the Netherlands.
Results
Improved reliability and consistency of network performance which results in improved service to users and maintenance of reputation, as well as greater predictive potential for equipment failure and resultantly lower costs associated with repair truck roll-outs and on-site visits.
***
Customer Profile
Ziggo is the largest cable operator in the Netherlands, and provides digital cable television, Internet, and telephone service to both residential and commercial customers. This means it runs over 40,350 km of fiber-optic cable to roughly 4 million cable subscribers, and provides 200 television channels, along with VoD through Ziggo Go – an online television service.
Overview of need
With such a comprehensive network and a reputation as the Netherland's largest provider to uphold, Ziggo aims to achieve the highest up-time of their signal distribution infrastructure for their broadcast services. Any downtime, even for a single viewer, costs both potential revenue and reputation. Moreover, fixing network downtimes is costly and an inefficient allocation of resources.
Ziggo therefore recognised the need for smart monitoring to measure and quantify signal integrity all along the signal path to predict loss of signal. Within their IT-based operations, the need for robust monitoring is not as pronounced, because of the way that packets move in IT-based networks. However, broadcast AV carries with it very specific needs and behaviours based on its need to arrive in time, together and in order. For this, precise, broadcast-specific modes of monitoring are required.
Signal issues – including jitter – not only represent a challenge to consistent, high level QoE delivery 'in the moment', but also – over time – represent an effective way for predicting imminent system failure. The monitoring tool selected therefore needed be able to provide easy-to-access, intuitive, trend-based data over time. Ziggo requires both of these elements if they are to keep their network running in a reliable manner, and maintain OPEX budgets by limiting or eliminating systems failures and downtime.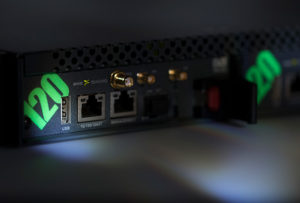 Solution
Assessing the nature and health of the existing infrastructure, Bridge Technologies' business partner 'Burst Video' agreed a plan with Ziggo to upgrade the VB120 probes that were already integrated within their system, in conjunction with a fan reinstallation for all relevant racks. This implementation was rolled out over a total of 40 sites.
The VB120 broadcast probe offers a cost-effective and powerful monitoring solution, covering IP unicasts and multicasts, OTT/ABR streams as well as a whole range of RF formats. Offering maximum reliability and minimum maintenance, the VB120 consumes less than 12W of power, thereby reducing power consumption and air conditioning needs.
Most importantly for a cable network such as that of Ziggo, the VB120's innovative RDP technology (Return Data Path) allows for easy-re-routing of remote signals from regional locations into a centralised point for decryption and advanced signal analysis. This reduces the need for truck rolls and expensive on-site visits – as well as facilitating rapid network expansion if needed. Recording functionality that is either continuous, manually triggered or alarm triggered allows for signal loss, packet loss and packet jitter to be checked against user-defined thresholds, ensuring that Ziggo can be confident of the robust functioning of its network at all times.
Technical Deep-Dive
The VB120 features a fully-fledged ETSI TR 101 290 monitoring engine used to monitor enabled inputs, one monitoring engine per input working in parallel. The basic VB120 monitors DVB, ASI and IP monitoring enabled through the IP Monitoring and Analysis option. Additional RF inputs may be included by adding demodulator blades to the system.
Each engine performs Priority 1, 2 and 3 measurements, monitors vital CA parameters, and can be configured to check signal scrambling. PSI/SI and PSIP tables are analysed and presented as table summary and hex dump, the latter enabling analysis of proprietary descriptors.
Bit rates are measured at TS, service and PID level, and the ETSI TR 101 290 engine also monitors RF parameters for optional demodulator inputs. Fully configurable round-robin functionality enables sequential monitoring of several transport streams per monitoring engine.
The VB120 has been designed to support all modern encapsulation standards including ISO/IEC13818-1 Transport Streams and MFRTP. The VB120 continuously measures signal loss, packet loss and packet jitter, and presents these elements through Bridge Technologies' own patented MediaWindow™ technology. MediaWindow™ allows for current and historical data to be displayed in an intuitive and visual way for easy understanding of the media flows in an IP network.
Furthermore, alarm handling is one of the main tasks of the VB120 Broadcast Probe, and all measurements are checked against user-defined thresholds for alarm generation. A sophisticated threshold template system gives the user full alarm handling control at probe, TS, service and PID level, ensuring that only relevant alarms are displayed.
All of this can be managed and controlled through a separate 10/100/1000-T Ethernet interface, whilst the IP-enabled VB120 may alternatively be managed in-band through the 10/100/1000-T video interface or through the SFP video interface. Standalone access is achieved through the use of any standard modern web browser, avoiding the need for a dedicated client application.
With SNMP trapping and the comprehensive Eii™ (External Integration Interface) XML export the VB120 Broadcast Probe is easily integrated into existing NMS systems either directly or through the optional VBC Controller Server (VBC).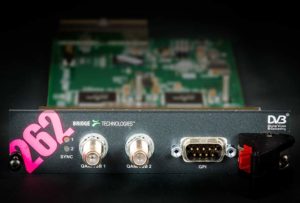 Additional Elements
A key part of this deployment was not just the technical capabilities of the product offered by Bridge Technologies and its ability to meet Ziggo's network-specific objectives, but also the expertise and support that was brought to the project by business partner Burst Video.  Burst Video were able to advise the client not only on their monitoring needs, but  support their wider business case by advising on the way that these monitoring elements would impact and integrate with the wider infrastructure of their operation – providing holistic support based on exceptional industry knowledge.
As well as completing the installation in locations across the entirety of the Netherlands, Burst Video also secured a five year service agreement with Ziggo. Indeed, in recognition of the 'above-and-beyond' approach that Burst were able to provide to Ziggo, they were awarded 'Best Service Partner' in Bridge's recent Business Partner Awards Ceremony.
Outcomes
Rob de Nijs, system architect at Ziggo stated: "As is often the case in technological installations of this complexity, the path to this point was marked with several elements to be negotiated; logistically, technologically and in relation to the business case. But both Burst Video and Bridge Technologies demonstrated a philosophy of absolute customer commitment and a desire to bring about a result that left all parties satisfied. We can now be confident that our 40 sites are future-proofed for the foreseeable future in terms of monitoring capabilities".
"Settling upon an appropriate upgrade plan for Ziggo was a complex undertaking, but we were committed to ensuring that we could find a solution which met all of the criteria that were stipulated by the operator" said Gerrit Bulten, CEO of Burst Video. "We were extremely proud to receive an award from Bridge in recognition of our efforts with this contract, and the process has reaffirmed how gratifying it is to work with a company such as Bridge which values and recognises service excellence, and the important contribution it makes to delivering effective monitoring solutions".
Commenting on the installation, Bridge Technologies Chairman Simen Frostad stated: "Securing a contract with the Netherland's biggest cable provider is yet further affirmation of how vital our solutions are to the effective monitoring of media services of geographically disperse networks that require continuous measurement solutions across multiple formats and encapsulation standards."