Broadening horizons at the most recent NAB
May 5, 2023
On our first day at NAB, during our Bridge Show interview with the always-engaging Stan Moote, CTO of IABM, we asked him 'how is it that NAB keeps getting better every year?'. 
And it really wasn't just flattery or rhetoric; we truly felt this was the best NAB to date. 
Much of that had everything to do with Stan's apt and to-the-point answer: 'innovation'. His central argument was that it wasn't anything particular the NAB was doing (though their efforts remain remarkable every year). Instead, it's the energy and innovation of the industry participants themselves that collectively contribute to something which becomes more than the sum of its parts. Every corner of the convention centre defied any of the click-bait titles we see too often in the media: 'is this the death of broadcast as we know it?'. Absolutely not! In every field it was clear that business was thriving.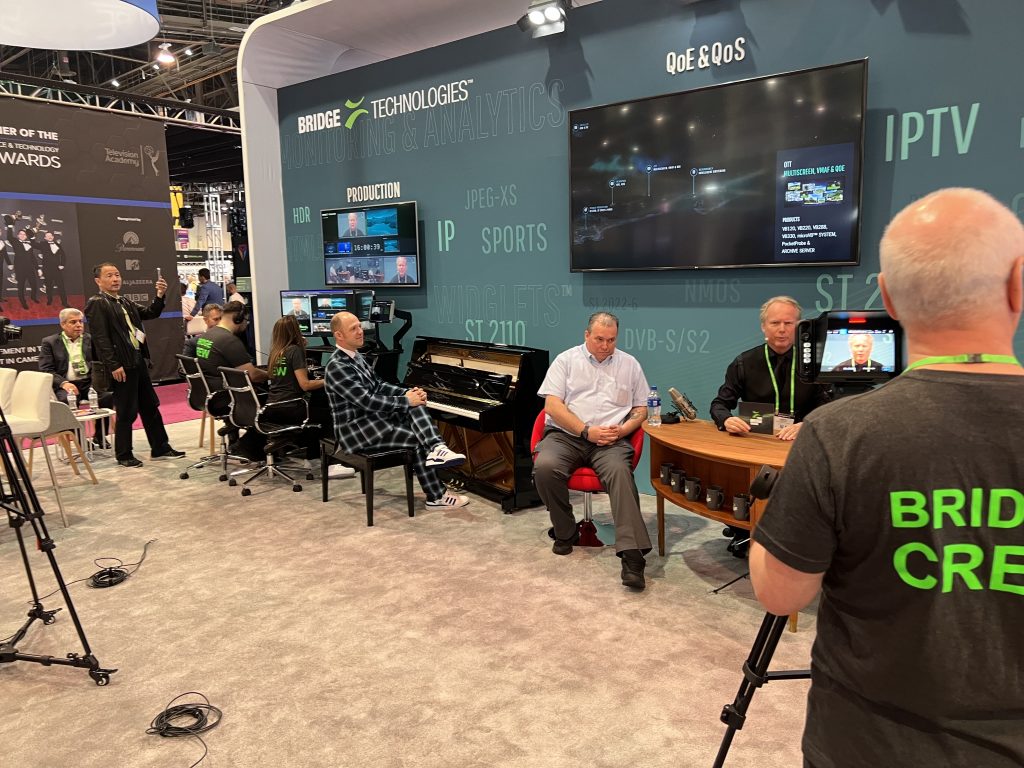 As Stan observed, a big reason for this was the fact that NAB was really broadening its reach to accommodate the full spectrum of 'broadcasters' (loosely defined), from individual social media content creators to multinational media conglomerates. The key idea was not scale, but quality; finding ways to put top-level tools in the hands of everybody. Because –  as we've been saying for a while now – quality broadcast shouldn't be the preserve of the elite, and what benefits one benefits all in this industry, creating a chain-reaction of improvements that result in an ultimate win-win outcome for both the companies creating products, and the end-user audiences enjoying their outputs.
Change starts from within
But in terms of what made NAB so great for us, it wasn't just what was going on around us that made the week – it was the magic we were pulling off within Bridge ourselves. Our team has grown significantly over the last four years, but when it comes to NAB we have a veteran gang who knows the ropes inside out – and most importantly, they know how to have fun with it. That's not to say the run-up to the show isn't a littttttle bit stressful – but once the booth is rigged and the lights are up, the natural energy and spirit of the team shines through. And that extends well beyond the booth; whether it's after-hours dinners with customers, lounging by the pool, riding the Tesla loop or getting more than a little competitive at our Top Golf evening – our trips to Las Vegas are marked by a real sense of camaraderie and fun. 
Which we think comes through on the booth too. This year we brought Aksel Kolstad with us – a supremely talented musician and an incredibly funny entertainer, and the perfect person to embody the Bridge culture and attitude to business. After all, what other booth was putting out live music performances, producing a daily live YouTube show using its own production equipment, churning out some tasty coffee in Central Hall and taking time out to pick up their NAB Best of Show award!?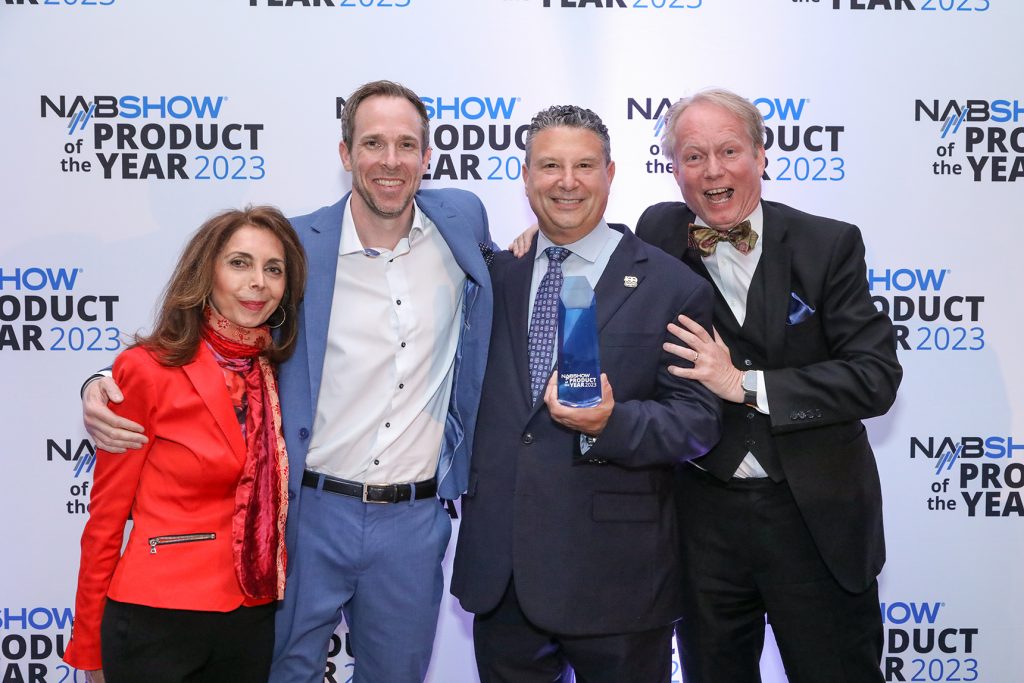 It's no wonder that we had so many engineers turning up on the booth saying that they'd been told that when it comes to QC and monitoring, 'they had to go and see Bridge'. Of course, whilst the coffee and music certainly must have helped, we think that maybe it's the quite remarkable technical credentials of our monitoring probes that proved to be the main lure: especially in light of the advancements we were demo-ing in Las Vegas – including our award winning VB330 SCTE 104/35 recording feature and the addition of Dolby E monitoring to the VB440. Or maybe they saw our second day Bridge Show, which highlighted the fact that the VB440 constitutes the backbone of one of the world's largest OB vans: All Mobile Video's 'Eclipse' truck. Indeed they may also have caught wind of the fact that the VB440 sits at the heart of some of the biggest studios in the world; including those belonging to a household name OTT provider, and those used in one of the biggest sports events of last year. Whilst it's news we've mostly been keeping on the down-low, word travels fast at a show like NAB, and tongues have been wagging!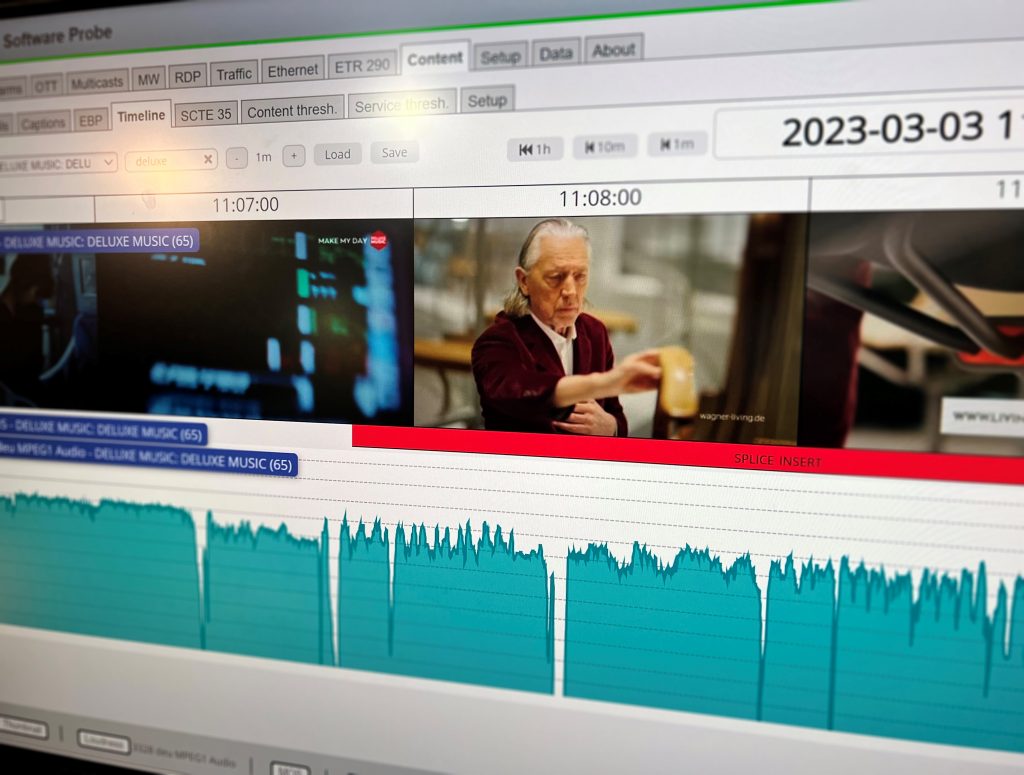 Onwards and upwards
Now safely returned, and with the jetlag shrugged off, it's on to ever greater things – many of which you will of course be hearing about in upcoming Bridge blogs. Part of that will be capitalising on the connections we made at NAB, but much of it will be transplanting that post-show energy into planning for the next big event in the calendar: IBC. 
But that doesn't mean we don't still have time for friends, old and new. If you didn't manage to catch up with us at NAB it's not the end of the world; we'd love to welcome you to our Oslo offices for a full demonstration of our monitoring solutions (and who knows, perhaps a concert piano performance or two!?).