VBC
VBC CONTROLLER SERVER
The VideoBRIDGE Controller (VBC) offers central management and status displaying of all monitored services, providing a window into the performance of the television distribution operation. The VBC gives unprecedented insight into network health and the flow of all types of media streams throughout the network. Key elements in the VBC include: configuration management, stream performance comparison at multiple points, worst-performer identification, drill-down analysis, stream and service status monitoring, graphical alarm historical data-display with the Microtimeline™ technology, Visio™ map import with active alarm indication, trend graphing over up to two years, SNMP multi-destination trap forwarding, alarm logging and SLA report generation. VBC has a built in MAPs view, allowing to geotag probe locations and display alarms in a map view.
Timeline view on ARCHIVE Servers, enables storage of monitoring data for long periods of time allowing operators to compare various values between them; for example EPG, jitter, media loss rate, thumbnails, audio levels, VMAF and MOS scores.
RDW (Remote Data Wall) is a display technology controlled by the VBC, allowing you to create a visual representation of network activity, enabling potential problems to be rapidly identified and appropriate corrective action taken.
Technologies
Bridge Technologies options are designed to enhance the overall ability and performance of accurate monitoring in the broadcast environment
Click below to learn more about compatible technology options: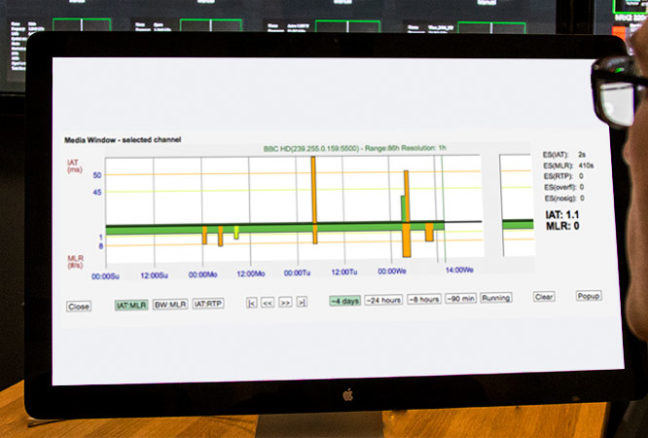 Overview

The VBC provides multiple views to make it simple to obtain system status overview, and it makes previously unintelligible data meaningful. Error patterns are easily discovered, meaning that an error may be quickly pin-pointed and corrected.

As the VBC can be used for both high level monitoring and detailed signal inspection, it provides a common monitoring GUI for both non-technical staff and system engineers; this facilitates communication within the organisation. Multiple browser-based clients can connect to the server through HTTP. Full access control with individual user preferences and setup is available.

Only users with administrator rights are allowed to define new equipment sites consisting of one or more VideoBRIDGE devices. Individual users are allowed to control already registered devices and to view gathered statistical data on a per site basis. Multiple site data views, combined with strict user access control, all add up to provide flexibility and uncompromising security.

The integrated Reports function, enable automatic or custom generation of enterprise level reports that visualise system performance trends in addition to presenting vital parameters, such as service availability for both management and engineering use. The Reports give full SLA and proof-of-delivery functionality to the VBC system.

With the TS service view option the VBC can present individual services inside transport streams from all probes for monitoring and comparison. The Service thumbs view displays thumbnail pictures for individual services, including services within an MPTS stream, provided that one or more VB288 Content Extractors are present in the configuration.

The VBC alarm view provides information about current and historical alarms, and alarm logs are stored in XML format on the VBC server.

The VBC server may be accessed by several users simultaneously. An administrator manages users and their access rights, and a user can only view information concerning sites that he has access rights to. A user with read-only access can only view alarms whereas a user with read/write access can alter equipment settings at the sites he has access to.

Often probes in a system should be configured identically or similarly, and the VBC's configuration control tools make it easy for an administrator to copy the configuration of a probe to other probes. Considering the number of parameters that constitute a probe configuration this is an important feature that makes life a lot easier for the system administrator. Remote software upgrades may also be performed through the VBC GUI. Through the VBC the user may access the regular graphical user interface of each component in the system, thus allowing detailed configuration control and status read-out.

The VBC Reports enable generation of reports showing statistics of the key parameters availability, quality and jitter. Trend graphs display how these key quality parameters develop over time, and by setting parameter limits it is easy to see whether or not the system performance is in accordance with an SLA.

The extended reports function enables full overview of all ETSI TR 101 290 parameters over long periods of time gathered and presented on a PDF document.

The Graphics Option allows Visio™ formatted maps to be imported into VBC with active data objects defined. This allows visual alarm status to be mapped onto the drawings. The drawings could typically be geographically maps, system diagrams or rack drawings.

The VBC supports an easy to use interface to the Return Data Path (RDP) functionality of individual probes. This is useful for visualising and changing the RDP settings of all the probes in a consistent manner.

There is also a synchronization mode where the VBC operator can select that only one RDP should be active at a time. This is useful when comparing the signal at various points in the network and avoids sending multiple signals to a single destination.

To support 3rd party equipment the VBC will send alarms as SNMP traps and it allows an administrator to configure a maximum of four SNMP trap destinations. Traps may be aggregated in order to reduce the number of traps being sent. The VBC further offers a machine readable XML-based interface called Eii (External Integration Interface). This can be used to extract data directly for further manipulation by 3rd party applications.

Tech Features

BASIC VideoBRIDGE CONTROLLER FEATURES

HTTP/web based client access
Configurable access control / support for different user roles
Password protected login for clients
Framework for organising probes into sites
Group TV channels into stream groups for easy problem identification
Highly scalable system allowing 200 monitoring probes through licensing
Easy integration and data export for 3rd party NMS systems through XML and SMNP traps
Central element management of all monitoring probes in the network through HTTP

Configuration file copy/paste functionality between probes
Perform centralized software upgrades
Copy/Paste parts of configuration files between probes from central equipment view

Central alarm aggregation of all monitoring probes in the network

Alarm aggregation (per-site, per-channel)
Trend graphs over multiple days of RF parameters (MER, Channel Power)
Graphical timeline view for several days for comparison between sites
Graphical Transport Stream aggregated alarm view for several days
Alarm logging with readout as HTML or XML
Thumbnail and meta data view
Alarm Scheduling to filter alarms during specific times during week

Alarm filtering

Define turn-on time and turn-off time to limit alarm floods
Define window of time over which alarms are disabled

General system health status panel
MICROTIMELINE™ view of last 96 hours of operation for individual streams and configurable stream groups
MICROTIMELINE™ stream view allowing easy identification of worst-performers
Thumbnail and meta data view with the addition of the VB288 CONTENT EXTRACTOR module
Hierarchical equipment view with bulk edit functionality
Framework for centrally controlling the Return Data Path video relay functionality in probes
Supports adding PocketProbe apps as devices for active and continuous OTT monitoring
Linux based server OS for stability

REPORTS FEATURES

Comparison of measurements with SLA agreements
Automatic SLA trend reporting in PDF format for IP multicasts monitored
Automatic SLA trend reporting in PDF format summarizing TR 101 290 analysis results for all transport streams monitored
Report time period selectable from 1 day to 2 years
Selection of sites and streams to be included in report
Upload your own logos to personalize report
Automatically set up regular email distribution of reports at predefined points in time

TRANSPORT STREAM SERVICE VIEW OPTION

View alarm state of all services inside transport streams based information in PSI/SI
4-day microTimeline™ alarm view of all services monitored

GRAPHICS OPTION

Active system maps with alarm highlighting based on VISIO™ import
Alarm indication for individual graphic icons
Logical system diagram showing signal flow
TV channel signal flow diagram with issue highlighting

Software

Options

GRAPHICS-OPTION
The graphics option is used with the VBC to visualise a monitoring system based on Bridge Technologies equipment. Objects contained within a user-created SVG drawing are linked to site, device or stream status, enabling the user to freely design a graphical view perfectly suited to his own system and presentation preferences. The SVG drawing may be very simple or extremely detailed; the operation of connecting elements to a specific system status is anyway as easy as right-clicking an element and assigning object properties to it. When the drawing has been imported, the VBC graphics engine will display it in the VBC networks view and colour an object according to the status requested. Green indicates status OK, whereas other colours show conditions ranging from warning to major alarm.

Learn more:

TRANSPORT STREAM SERVICE VIEW-OPTION (VBC server)
The Transport Stream Service View option for the VBC utilizes the ETR290 engines inside the probes to report individual services automatically to the VBC based on the information signalized in the SDT tables. This allows viewing of services within a MPTS (Multiple Program Transport Streams) and the services can more easily be displayed and understood. The TSSV-Option also allows the utilization of the VB288 Objective QoE Content Extractor to display Thumbnails from individual services within an MPTS. The TSSV-Option further allows server-based ETR290 comparisons between probes installed at different geographical locations.

Learn more:

Ordering Codes

VBC-SERVER WITH REPORTS

VBC-2 – One-time license for two probes free of charge

VBC-5 – One-time license for 5 probes

VBC-20 – One-time license for 20 probes

VBC-50 – One-time license for 50 probes

VBC-100 – One-time license for 100 probes

VBC OPTIONS

VBC-R – One-time license for a second redundant VBC installation

TSSV-OPT – Transport Stream Service View option

GRFX-OPT – VBC Graphics Option – enables VISIO™ drawings to be imported

ARCHIVE-SERVER – Archiving of data for Timeline feature. Requires sw v5.3